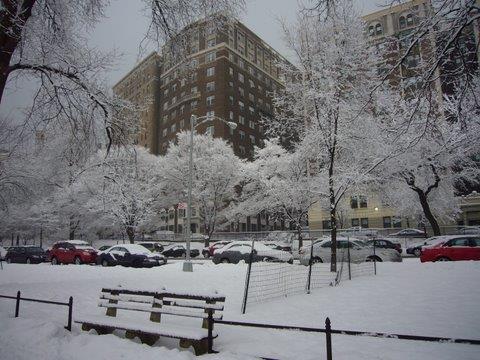 CONDOS FAULT CITY FOR FAILURE TO MAINTAIN WATERFRONT
The condo boards of three Brooklyn high-rises have filed suit against the City of New York for breach of contract —claiming that the city's Department of Parks and Recreation failed to keep up the public areas and piers fronting the buildings, as promised.
According to the complaint filed with the New York Supreme Court, the boards of One and Two Northside Piers, and The Edge, allege that, as a result of the city's neglect, the North 5th Street Pier and Park has fallen into "a state of complete disrepair, overridden with crime and unlawful activities[.]"
When the buildings were completed in the late 2000's, the condominiums handed over upkeep of the waterfront park to the City, as part of a zoning deal. And, in exchange for promised maintenance, repairs, and security services, the 807 unit owners of the three buildings pay the city annual fees. Pursuant to those maintenance agreements, Parks Enforcement Patrol is required to enforce the pertinent rules and regulations, but that is not what's happening, and the condos contend that their calls to the agency and the police have gone unheeded.
The attorney representing the boards noted that, "[t]he entire maintenance of the park is funded by fees paid by these condominiums . . . and these agreements outline exactly what the city is supposed to do . . . [i]t's just a dereliction of duty on behalf of the Parks Department."
Of course, the conditions described have been exacerbated by the pandemic. But per the complaint, residents have observed "a significant rat infestation problem" due to inadequate garbage disposal, streetlights that have gone unrepaired for months, skateboarders and motorcyclists that have destroyed park property, broken or missing pavers, and dog-leash laws that are unenforced. The complaint even references revelers hosting late night "block parties" with loud music and alcohol, and even launching illegal fireworks, which, in one instance "struck the façade of one of the Condominiums, causing damage and significant risk of fire."
Keith Berger, the president of One Northside Piers, said that while he understood that the city was facing a cash crunch due to COVID-19, its failure to maintain the parkland was unacceptable. "I appreciate that there's a budget gap but we pay hundreds of thousands a year for this," said Berger.
The plaintiffs claim that the city owes the board of the Edge condo complex approximately $1.4 million, and the boards of One and Two Northside a total of $700,000.
"We'll review the case once we are served," said Nicholas Paolucci, the NYC Law Department's press secretary.
"And review it well, they should ... as the City's dereliction of its contractual duties is inexcusable," noted Jonathan H. Newman, Managing Partner of Newman Ferrara LLP