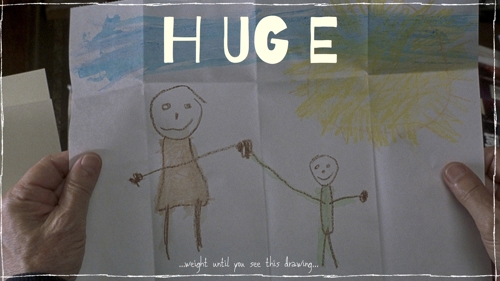 Hate the way you look?
Do you hyper-focus on one or more parts of your body or are unhappy with your physical appearance?
If you answered in the affirmative, the Mayo Clinic suggests you may be suffering from "body dysmorphic disorder" – loosely defined as an obsession or preoccupation with perceived flaws. While the manifestations of the condition vary, it causes some to believe they are "ugly" or "deformed," and may trigger depression or even suicidal thoughts and behaviors.
Given that this serious condition affects a significant chunk of the population -- roughly 10 million Americans, of all ages and sexual identities -- it is an extremely important topic to be debated and addressed.
Which is why I was attracted to "H UG E," a new film written by Paloma Nozicka, and directed by Danny Farber.
Paloma and Danny describe their 10-minute comedy as a "Black Swan meets Black Mirror." Paloma adds, as the lead character's "self image crumbles –- causing distrust and paranoia -- we're hoping to give audiences a scare and a laugh in the process."
What's particularly scary at the moment, is raising funds for a movie in the midst of COVID. But to help entice contributions, for a limited time, you can gobble up some hefty "perks" -- like a social media shout-out, an advance screening link, an acknowledgement in the credits, to a walk-on role and set visit!
To learn more, please click on this link: https://www.indiegogo.com/projects/h-ug-e-a-short-film#/
With your help, this film will be H UG E!