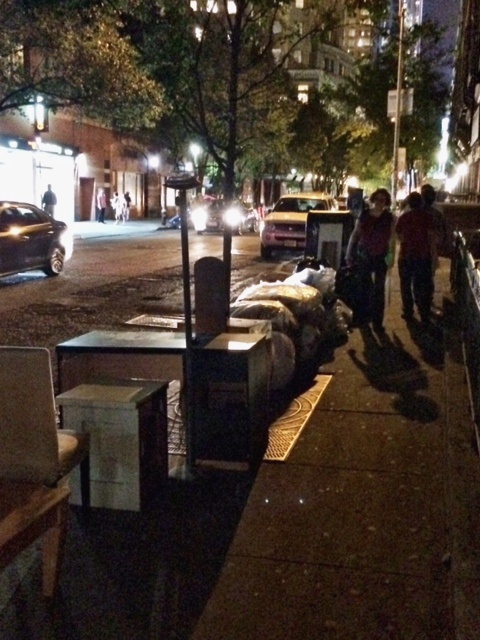 Storefronts in NYC were finally tossed a bone, last week, in the wake of the COVID-19 restrictions that have been crippling retail businesses.
The New York City Open Storefronts Program, which began on October 30, and will end on December 31, will allow ground-floor shops to conduct business on the sidewalks and roadways adjacent to their locations -- similar to the Open Streets program that has been helping to prop up the City's restaurants.
Due to the success of that program -- now permanent in New York -- de Blasio passed Emergency Executive Order (EO) No. 157 to extend the same leeway to storefronts. "It's a crucial time for every small business" the Mayor proclaimed. "We can all make a difference by buying local." His EO covers "ground floor commercial premises," and provides an extension of up to five (5) feet from the "external facing wall of the building," i.e., the property line. There must be a minimum of eight (8) feet clearance for pedestrian traffic on the sidewalk, at all times, and there can be no obstruction of subway grates, fire hydrants, bus stops, subway entrances, or fire exits. Only roadways that are currently designated for the Open Street program can be used for any business spill-over. All other stores must remain on the sidewalk.
Retail shops, repair stores, personal care services, dry-cleaning and laundry services can use outdoor space for seating, queuing, or display of dry goods. While collapsible tents and umbrellas are permitted, they may only be take up 400 square feet. Of course, city officials have advised against using those coverings during inclement weather -- such as high wind conditions. Merchandise placed outside also cannot exceed five (5) feet in height (to minimize injuries), and, all objects must be brought back inside upon the close of business.
Some stores will inevitably have an advantage over others. Dina Leor, owner of La Sirena in the East Village, realizes the new program will not change much for her: "Unless you're on an avenue, stores will be knocked out of this automatically because of the clearance requirements … but I think it's a fun idea, and I wish the city did this when it was warmer!"
To be eligible, entrepreneurs must submit an attestation to the Department of Transportation, and adhere to the applicable DOT guidelines, as well as any directives issued by the Department of Small Business Services, Sanitation, Health and Mental Hygiene, and the NYS Department of Health.
With Christmas rapidly approaching, and with it the prospect of some tourism, the Open Storefronts program will hopefully give businesses a fighting chance to make ends meet, if not turn a profit.
--------
If you are a commercial tenant experiencing any issues or concerns during this COVID-19 crisis, please do not hesitate to reach out to one of our attorneys at 212-619-5400.