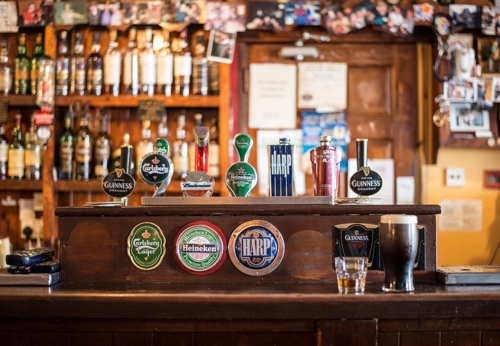 Standing alongside a cobble-stoned road on Water Street, in Downtown Manhattan, is a 226-year-old building. Overlooking the Brooklyn Bridge from the South Street Seaport, the land-marked property holds the Bridge Café – an historic bar that has been shut down since Superstorm Sandy hit back in 2012, when flood waters wreaked havoc on all the businesses and homes in the area. And, unfortunately, repairs are still difficult (and costly) for Adam Weprin, the café's owner.
Reconstruction has been arduous and tedious. According to the Wall Street Journal, the rising costs have become "overwhelming." His family had owned on site for forty years. And while he wanted to preserve the establishment and keep it alive, Weprin believed that the bar was "dying on my end."
The restaurant served people like Mayor Ed Koch back in the eighties, and was a respected café which attended to "the city's power players." Weprin believes it's obligation to get Bridge Café back and will be meeting with a contractor and an expediter to assist him through the process.
Unfortunately, many factors will play a part in the opening. In addition to replacing the floors, there are other costly repairs -- but he remains committed to a reopening.
"I want to try again, with less emotion and a clear head," he told the Wall Street Journal. "If it doesn't make sense, I will finally let it go."
# # #
To read the full story in the Wall Street Journal, click here (SUBSCRIPTION REQUIRED): https://www.wsj.com/articles/one-last-shot-for-a-historic-manhattan-bar-11582381962