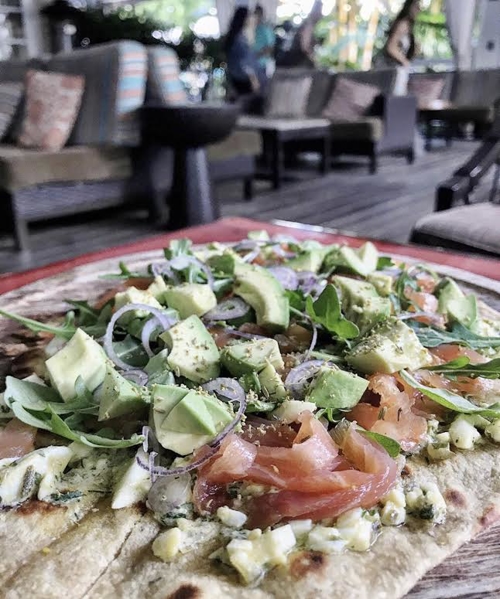 Since we were in the area, one of my friends wanted to check out "Essensia Restaurant & Lounge," at the base of The Palms Hotel & Spa (3025 Collins Avenue, Miami Beach).

There you'll find a "Caribbean-style covered terrace," where you can sit and purportedly enjoy "natural gourmet cuisine with [an] emphasis on premium local and sustainable ingredients" — at least, that's what the hotel's website claims.

Since we're always on the hunt for some great flatbread, we started off with the "SMOKED SALMON" — "Avocado, Red Onions, Gribiche, Fennel Pollen, Garden Dill" ($16).


Flatbread is traditionally unleavened bread, made without yeast. The main ingredients — flour, water, and salt — are rolled out flat and cooked. And while its origins date back to ancient Egypt, you'll find an endless variety around the world; ranging from naan in India to the tortillas of Latin America.

This particular iteration, however, baffled us. Not only was it an irregular "kidney shape" — when one usually expects rectangular or circular — this item came out cold, and its base had a dry, stale-pita-like elasticity that we found extremely off-putting.

While most of the other ingredients were fresh, there was no "smoke" to the smoked salmon, and it was a bit salty.

Given that salinity, and the "jumbled salad" look, this mundane dish rated a contemptible "C-." (But, frankly, I thought it deserved a much lower score.)
# # #
Follow Lucas on Instagram: @lucasaferrara