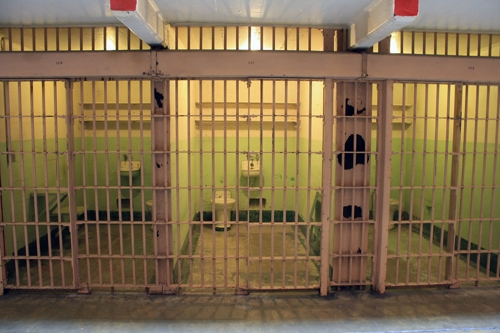 Nassau County District Judge David McAndrews admitted to intentionally ignoring New York State's controversial bail-reform law, and held a defendant, Romell Nellis, in prison, believing that he was too dangerous to society. The alleged two-time bank robber was not charged with a bondable or bail offense, but was still ordered to be held on $10,000 cash or $20,000 bond.  
Judge McAndrews was quite insistent, noting to the criminal defendant that "I don't want you walking around my neighborhood," according to the New York Post. Unfortunately for us all, a higher judge reversed McAndrews's order and Nellis was released with an ankle monitor.   (To compound things just a bit, Nellis reportedly removed the monitor and is now missing.) 
"It's insane, when you think who we're letting out of jail," said Nassau Police Commissioner Patrick Ryder. "We're not protecting the victims, and we've swung the pendulum way too far." 
Nellis was busted in January for two bank heists, demanding $100s, $50s, and $20s from bank tellers. He was also convicted for drug-trafficking back in 2012 and served seven years in prison.    
"Although under [Section] 510.10, this does not qualify as a bondable or bail offense, I find this defendant to be a menace to society," McAndrews said.  
According to the Post and the police, Nellis is still at large. 
"This only reinforces that the recently enacted bail reforms were a major mistake.  Our political leaders should never have eliminated judicial discretion," noted Ricardo M. Vera, a partner at Newman Ferrara LLP.  "Allowing repeat offenders, or those who present a danger to others, back onto the streets, serves no beneficial societal purpose, whatsoever." 
  # # # 
To read the full story in the New York Post, click here: https://nypost.com/2020/01/28/long-island-judge-ignores-bail-law-refuses-release-of-menace-to-society/