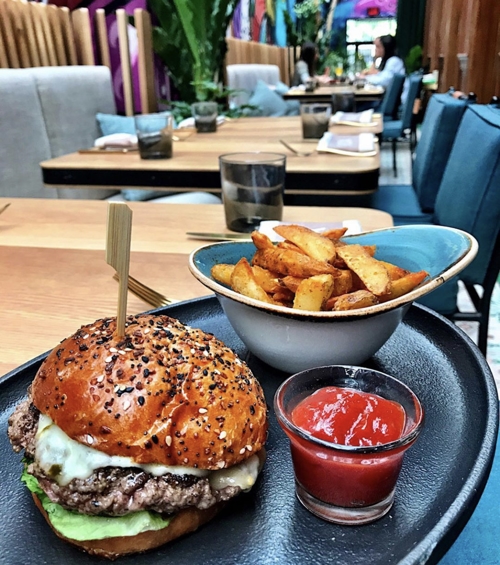 Chef Lorena Garcia's new place in Miami ("Chica," 5556 NE 4th Court) features a "CHICA BURGER" — described as a "1/2 lb of hand ground prime beef, lettuce, charred onion, truffle aioli, pepper jack cheese, everything bun, pequin fries" ($19).

What makes the perfect burger?

Well, the answer will depend on who you ask. Bobby Flay, for example, believes that it doesn't matter what cut of beef you use. He thinks it's all about the fat — 20% worth to be precise; otherwise the burger will dry out.

Garcia thinks it's more about the grilling technique, and warns against pressing the burger on the grill. "You will squeeze out all of the yummy goodness that keeps the burger moist," she has reportedly advised. (She also recommends spraying a bit of water on the meat before covering it with any cheese.)


But if moisture is the constant, Chef Garcia has the formula down pat. Her "medium rare" patty was incredibly juicy and delicious. And we loved the subtle truffle flavor. Almost everything worked well. (Except ... for the fries.)

Now "pequin," or chile pequin, are tiny, red chile peppers that grow wild in Mexico. They're about 10x hotter than a jalapeno, and pack a lot of heat (40,000 to 60,000 on the Scoville scale) and offer a subtle smoky flavor. But, strangely, we couldn't discern any of that heat or savoriness in these fries, costing this dish some points. That and a $19 ask (before tax and tap) hit some as a bit high, but it still ended up scoring a pretty impressive "B+."

When the opportunity presents itself, we suggest you give this place a try.
# # #
Follow Lucas on Instagram: @lucasaferrara