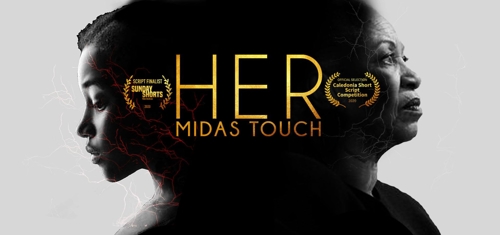 According to Greek mythology, Midas was a king who had the ability to turn anything he touched, into gold. Yet, it is said, he ultimately died of starvation, as his powers ultimately destroyed him.
In "Her Midas Touch," a new film written by Lorna King, and directed by AimIe Willemse, our protagonist is a teenager whose empathic powers can relieve people of their grief and pain upon contact.
In this story, however, young Esther, is exploited by her grandmother, who is capitalizing on the girl's abilities; charging wealthy clients significant sums. Realizing that her self-destruction is inevitable, Esther must decide whether to break free and end the cycle of abuse.
According to the creators, the film, "explores the relationship between Black women as they try to survive in a hostile system. A system that only values them as long as they are useful and quickly disposes of them as soon as they aren't."
Film financing in this economic climate is no easy feat and, for young creatives, can itself be downright hostile. That's why the team has initiated a crowdfunding campaign, where in exchange for a contribution, you can procure access to a secret Facebook page, receive a specially designed pin, score a copy of the film's soundtrack, a signed poster or script, behind-the-scenes footage, attend a virtual screening and Q&A session with the team, to scoring an acknowledgment in the film's end credits.
To learn more, please visit: https://www.kickstarter.com/projects/hmtshortfilm/her-midas-touch
The ladies and I would find it particularly touching ….