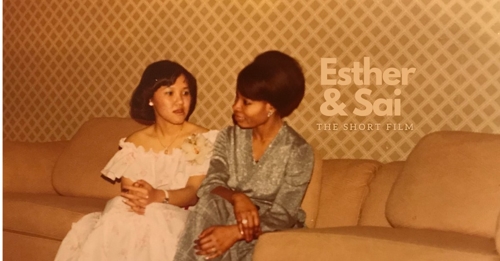 The National Institute of Mental Health considers it "a major public health concern."
It's among the top 10 leading causes of death in the nation and, based on surveys, is "on the rise." The number of occurrences exceeds homicides -- by two and half times.
Yet, because of the associated stigma, few want to talk about it. That's why I was immediately drawn to Rosie Pidcock's new film, "Esther & Sai," which is inspired by the real-life story of Sai Choo (a Chinese Singaporean immigrant) and Esther Aneke (a Nigerian immigrant) who were the only two students of color in their 1976 nursing class at the University of British Columbia. Their friendship spanned decades before Sai, who suffered from severe depression, lost her battle to mental illness,and died by suicide in 2017.
Rosie notes that the film is her way of "honouring Mom's memory, and the countless immigrant women who sacrificed their own well-being to provide a better life for their families." And it's her hope "that the film will inspire other second-generation immigrant children to discuss mental health issues with their parents."
It's also her hope that you'll visit her crowdfunding page and consider contributing to the film's completion. In return, you'll be rewarded with such perks as, a social media shout-out, a custom cocktail named after you, a 30- or 60-minute Chinese lesson, a compilation of Sai's favorite recipes, together with an acknowledgement in the film's credits.
To learn more, please visit: https://www.indiegogo.com/projects/esther-sai-short-film#/
Let's celebrate life and the power of friendships ... and help get Esther & Sai made.