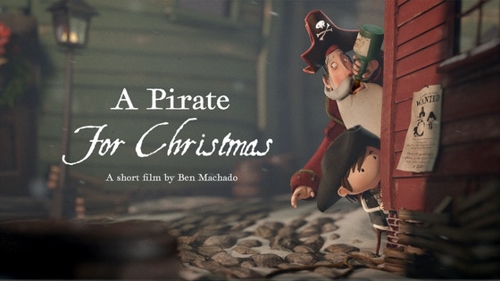 We all know life is a constant battle … but imagine you're an orphan trapped on an island under siege by British soldiers.
It's the time of the Revolutionary War, and after the sudden loss of his father, a young boy must fend for himself in the midst of all the adversity and domestic turmoil.
Hungry and alone, the child manages to escape detection, until he encounters a "mysterious pirate" who's in need of help returning to his ship. Of course, once the youngster decides to align forces with the freebooter, dangerous encounters with the enemy ensue.
And that is the premise of "A Pirate for Christmas," a new animated adventure by Benjamin Machado. Ben notes that his project "is the culmination of my love of animation, my childhood on the water and the bond between children and their parents. As a new Dad myself, this aspect of the story has become especially apparent. The film is ultimately about a person struggling to grow after the loss of someone incredibly important in their lives, something I think many people can unfortunately relate to."
What most creators can also relate to is how difficult it is to raise funds for short films, particularly in this environment. That's why Ben has initiated a crowdfunding campaign where, in exchange for a contribution, you'll have access to a treasure trove of loot, such as a digital download of the poster and the film, a "mystery bag" full of thematic goodies, you can supply voice-work and/or have your face appear in the film, get a 3D printed figure, to an acknowledgment in the end credits.
To learn more, please visit: https://www.kickstarter.com/projects/benmachado/a-pirate-for-christmas-short-film
Now don't you dare be mutinous!
Be a swashbuckler … and support "A Pirate for Christmas," today!