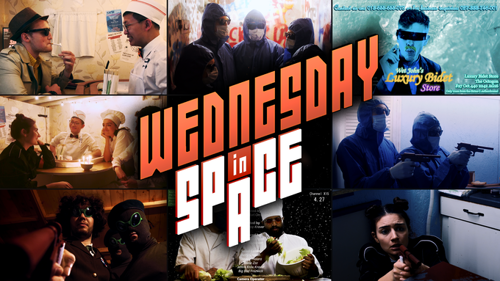 Hey, kids! What time is it?
Well, Howdy Doody, it's time for "Wednesday in Space" — a new film written, directed, and edited, by none other than the incomparable Hudson Hughes.
Shot entirely out of his U.K. garage, over the course of a week, Hudson and his 20 friends bring to the screen a "whirlwind of comedy, violence, and aggressive TV commercials."
If you love Monty Python, Airplane, Spaceballs ... sci-fi comedy, in general ... you're certain to enjoy this new feature ... which is set in a small diner located somewhere deep in the "galaxy's armpit."
Hudson notes that "the unique blend of improv and sleep deprivation is what lends the film its signature flavour."
If you like what you see in this hilarious "teaser," check out his website, and visit his crowdfunding page on Kickstarter. Join us as we gear up for marketing, distribution, and getting the project "cinema-ready."
Hudson's campaign is scheduled to expire on August 31, 2020, so don't you dare dilly-dally. Head on over, and check out his page, toot sweet!
https://www.kickstarter.com/projects/hudsonhughes/wednesday-in-space/description
Hurry, before this takes off!