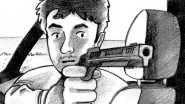 Particularly now, it is of critical importance that we band together and afford underrepresented communities a voice. And to that end, I invite you to join me in supporting a new film project written and directed by first generation British-Indian, Ravi Ghelani, and produced by his colleague, Abdullah Khan.
In their new psychological thriller, "SLAVE TO THE PAGE," an obsessed fan kidnaps a famous writer, in the hopes of uncovering the latter's secrets. But over the course of the abduction, things take a gruesomely unexpected turn.
Combining comedy and suspense, the short film will tackle such timely themes, as mental illness, racial and ethnic stereotyping and misrepresentation in the media, and, the dangers of celebrity worship.
To help bring this uniquely compelling story to life, please join the Indiegogo crowdfunding campaign — which will only be running for the next few weeks — via Slave to the Page - Short Film or https://www.indiegogo.com/projects/slave-to-the-page-short-film/x/24127123#/ or by searching for "SLAVE TO THE PAGE" on the Indiegogo website.
See you at the movies!