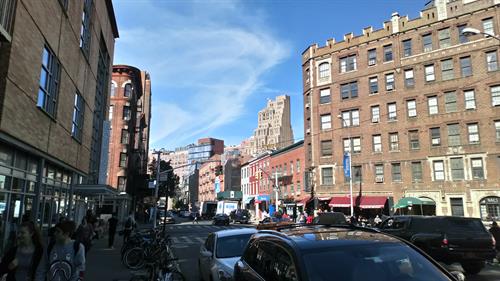 Tenants battling with Steve Croman, a major Manhattan landlord with some 100 residential buildings, appears to be a pretty common occurrence here in New York City.  And the residents of 560-566 Hudson Street, over in Greenwich Village, are allegedly his latest victims.   
According to court filings, Croman was receiving tax breaks for the building under the state's "J-51 Program," which requires landlords to provide their tenants with rent-stabilized leases.  But residents are claiming they didn't receive legally compliant leases or proper renewals once they moved into the building. 
As The Real Deal recently reported, "10 of the building's 32 units were listed as rent-stabilized when its tax benefits under the J-51 program expired, even though the rules of the program require all 32 units to be rent-stabilized…."
After being found guilty of tax and mortgage fraud, Croman was released from jail, last June, after serving some eight months. He was also required to pay $8 million in restitution because of harassment issues with his tenants back in 2017.
"Two years have gone by since Croman pled guilty to grand larceny, falsifying business record and criminal tax fraud, and here is he still defrauding tenants," said Aaron Carr, the founder of Housing Rights Initiative, a watchdog group.
Lucas A. Ferrara, Senior Partner of Newman Ferrara LLP, who is serving as counsel to the tenants, shared this quote with reporter Eddie Small:
"They say a leopard never changes its spots, and that's certainly proving to be true as far as Mr. Croman is concerned. He's one interesting cat."
# # #
To view an online copy of the original report, please use this link: THE REAL DEAL (subscription required)
# # #
For the latest updates, follow us on Twitter, Facebook, and LinkedIn.