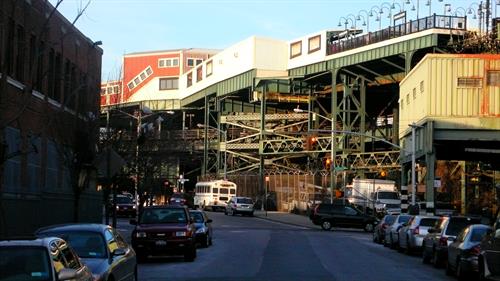 Last month, New York City Council Member Rafael L. Espinal Jr., Brooklyn Borough President Eric L. Adams, and, the New York City Economic Development Corporation released Broadway Junction: A Vision for the Future -- a document which outlines how the city plans to improve that transit hub and bring more retail shops and restaurants into the area.
According to Councilmember Espinal, the aim of the project is to transform the interior and surrounding areas of the station into a vital and vibrant commercial center of activity.
"We are proud to have spearheaded this effort with community leaders and organizations as part of the Broadway Junction Working Group to ensure that this vision was informed by local knowledge of on-the ground issues and community priorities. We are hopeful that the City and State will work to enact the goals and recommendations laid out in this document and bring much-needed action and investment to this area," said Espinal.
Broadway Junction is among the largest transit hubs in the five boroughs, aside from Atlantic Terminal, Newark Penn Station, Grand Central, and Penn Station, and is only a 15-minute ride to DUMBO and Williamsburg, a 20-minute ride to Lower Manhattan, and some 35 minutes to Midtown Manhattan, or JFK Airport.
Despite the station being Brooklyn's third busiest, it lacks basic services like elevators, and, the surrounding area is plagued by vacant sites, poor lighting, and non-existent signage.
In an online survey conducted this year, 83% of respondents said their experience inside the station was a 3 or worse (with 1 being the best and 5 being the worst). An overwhelming majority of the respondents – 86% -- rated their experience outside the station a 3 or worse.
The same survey found that about 90% of commuters use the station only to transfer between lines.
City leaders view this as a missed opportunity and hope to grow Brooklyn's local economy by attracting retail and other commercial activity. And while there is no set timeline for this project's completion, many recognize that this much-needed investment is a long time coming.
"If we were receiving the resources that we deserved over the last 30 years, we wouldn't be having this conversation today," said Bill Wilkins, who is also manager of the East Brooklyn Business Improvement District. "We started to shape and identify, to a degree, the canvas. So, this is something to be excited about."