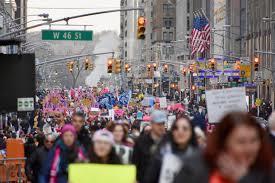 Sadly, New York City has recently experienced a drastic increase in the number of "hate crimes" – attacks predicated upon the presumed gender, religion, race, color, ancestry, national origin, age, sexual orientation, or disability of the victim(s).  Although, historically, the prime targets have been African Americans and members of Jewish and LGBQT communities, whites are also reportedly subject to victimization.  
Patch reports an 85 percent increase of anti-white hate crimes in 2019 over 2018, and noted that, through September 1, there have been 15 arrests for anti-white hate crimes – some 62 percent of the total reported number.   
Yet, according to Patch, the NYPD recorded 29 anti-black hate crimes as opposed to 24 incidents against white people.  In other words, while there were more hate crimes directed against African Americans, the number of arrests for anti-white hate crimes were 50 percent higher. 
NYPD spokesperson, Sgt. Jessica McRorie noted that it was the Department's goal is to reduce all hate crimes in the city, regardless of the impacted individuals' status. 
"Victims of hate crimes can be assured that they will be provided with the appropriate assistance, by the local precinct's Community Affairs team and the NYPD Hate Crime Task Force," Sgt. McRorie said. The Department has promised to "vigorously investigate" the rising hate-crime rate.  
In 2019, anti-Semitic hate crimes also increased substantially. There were 152 reported incidents; a 63 percent increase from 2018, according to police data. Gender-based attacks have risen 83 percent to 11 incidents, while anti-black attacks have risen 12 percent to a total of 26.  
Frank Pezella, a hate crime expert, noted his belief that the rise in anti-white hate crimes is a "consequence of Charlottesville, a consequence of the emergence of the alt-right, the emergence of these right-wing protesters …."  
"People committing crimes against people they perceive as 'the other' is, unfortunately, not new in this country," noted Debra Cohen, Co-Chair of Newman Ferrara's Civil Rights Group.  "What may account for the recent increase is the failure of some public officials to set an example of tolerance and civility. Some have instead chosen to fuel hate and divisiveness." 
If you are a victim of a hate crime, or have questions about your rights, please do not hesitate to reach out to a member of our Civil Rights team at 212-619-5400. 
##
For the latest updates, follow Newman Ferrara on Twitter, Facebook, and LinkedIn.