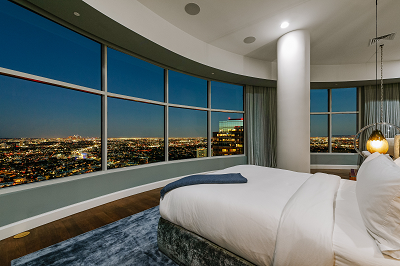 Most recognized for his 10-year-stint as "Chandelier," on the mega-hit sitcom Friends, Matthew Perry has just listed his 9,300 square foot L.A. condo for a whopping $35 million.
Purchased in 2017 for $20 million, Perry completely renovated the glamorous 40th-floor penthouse with the help of architect Scott Joyce, and interior designer LM - - who added modern fixtures and textured accents to the living space.
When he's is not busy playwriting, directing, or acting, Perry spends his free time "flipping houses" across California, and has acquired a number of gorgeous homes over the past decade.
Built in 2009, the luxurious condo has attracted several other noteworthy celebrities, including Rihanna, Candy Spelling (widow of filmmaker Aaron Spelling), and Paula Abdul, who probably got all verklempt when they encountered the floor-to-ceiling views of the "City of Angels."
The skyrise has 42 floors, and is equipped with a 75-foot-long swimming pool, screening room, yoga and Pilates studios, and a wine-storage facility. (Talk about luxury!)
Perry's penthouse includes enormous rooms - - a living room with two fireplaces, and a huge master suite with multiple living areas. Four bedrooms and eight baths, a game room and a home theater are also part of the package. And, if that ain't enough, it also includes four terraces perfect for entertaining friends and family.
Since the actor loves "Batman," he's adorned the main hallway with that superhero's figures and memorabilia.
According to Page Six, Perry's condo is currently the most expensive condominium for sale in the Los Angeles area.
The listing comes as Perry is spending more time on the East Coast, in the "Big Apple." (Where else?)
To view this listing, please use this link: https://www.toptenrealestatedeals.com/weekly-ten-best-home-deals/home/matthew-perrys-jaw-dropping-la-apartment
Should you require assistance with a real-estate transaction, please do not hesitate to call one of our attorneys at 212-619-5400.