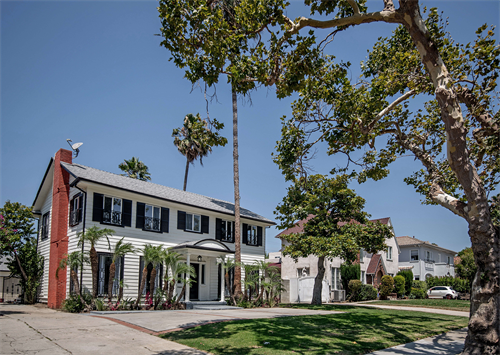 Before becoming a member of the British royal family by way of marriage to Prince Harry, the Los Angeles born actress, Meghan Markle, was best known for her role in Suits, a fictional show about a New York City law firm.
Even though she spent most of her time in Toronto shooting the series, she would return to her charming Colonial-style home in L.A.'s Hancock Park neighborhood, where she lived with her then-husband, Trevor Engelson.
The couple rented the property in 2011, and lived there until their divorce in 2013.
Built in 1924, the house measures 2,262-square-feet with four bedrooms, three baths, family room, living room with fireplace and dining area. With tons of natural light, the house also feels bright and spacious.
The eat-in kitchen is enhanced by white cabinets and marble countertops. The dining room opens onto a patio for entertaining and a huge backyard, perfect for all those L.A. cookouts, and for overlooking downtown.
Because the Meghan's mom still lives in Los Angeles, many speculate that the Duchess and her Prince may have their eyes set on buying property in the area, for whenever the royals tire of eating all that black pudding and meat pies.
To view this listing, please use this link: https://www.toptenrealestatedeals.com/weekly-ten-best-home-deals/home/look-inside-meghan-markles-l-a-house/
Should you require assistance with a real-estate transaction, please do not hesitate to call one of our capable attorneys at 212-619-5400.