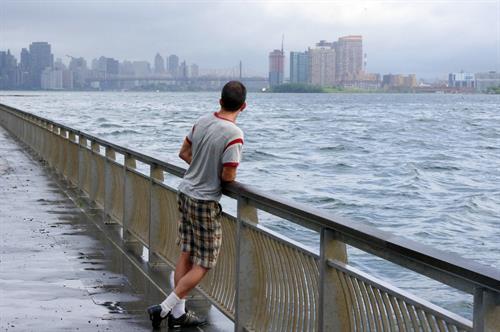 If you ever wanted to "bathe" in the East River, you just may just get your chance.  
Last week, the city's Economic Development Corporation (EDC) posted a notice asking would-be pool operators to submit plans for a self-filtering pool off the Lower East Side. 
The idea for this public swim facility has been floating around since 2010. +POOL, a non-profit that runs swimming programs, has wanted to build a 9,000-square-foot pool capable of filtering the waters of the East River for some time now. But the project failed to receive the necessary funding.
According to EDC, the pool is "expected to be one of the first installations of an urban river-sourced swim facility in the United States." 
Kara Meyer, deputy director at +POOL, said the team was surprised by EDC's interest in reviewing the 26-page solicitation. "We're looking forward to responding," said Meyer.  
The Wall Street Journal reported that the project will cost upwards of $25 million.  
While the idea may seem outlandish, New Yorkers were once able to safely swim in the river decades ago; before the water quality became too dangerous to swim, due to boat pollution, sewage overflows, and littering.   
There is a deep stigma attached to swimming in the city's waterways, yet +POOL hopes to change that by cleaning the river ... one day at a time.  
The company estimates that their pool will clean more than 600,000 gallons of river water every day. (Reportedly no chlorine or other chemicals will be utilized.)  
If you're interested, the deadline to submit proposals is Friday, November 1, 2019.  
Click on the link, to see the +POOL team's short promo video about their project.