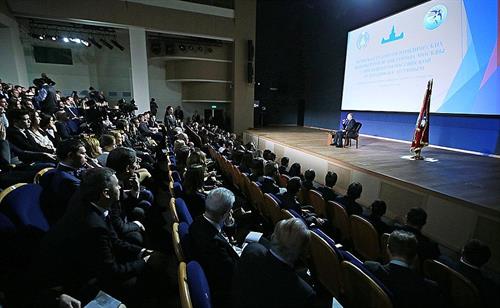 We often hear that corporate America is trying to diversify, so that it will become easier for minorities to break into its ranks and hold powerful roles. And while minorities have certainly made strides, they still aren't where they should be.
​Recently, as Crain's New York reported, the Council of Urban Real Estate says only 4.6% of African Americans make up the commercial real estate workforce, and only 2% are in senior-level positions. (Interestingly, only 9% of all women hold senior-level positions.)
These abysmal numbers are the reason why the Diversity in Commercial Real-Estate event, which was held last July, drew 600 millennial-aged professionals of color.
The main event was a "frank discussion" about "what it takes" to succeed in real estate. The participants also discussed other pressing issues in today's real-estate world, such as deal structuring and affordable housing.
The event was organized by Adeola Adejobi, the founder of Avant-Garde Network, a career-development group for professionals of color. He believes diversity in real estate is imperative because "it has impact on communities, [and] impact on livelihoods."
​Owning a home is "a key determination of wealth." It is historically difficult for African Americans to create a footprint in home-owning as many of the wealthy homes are multi-generational and are passed down.
"The average white household has more than eight times the wealth of the average black household," Crain's indicated.
Tammy Jones, the co-founder and CEO of Basis Investment Group, a commercial estate investment firm, is a woman of color who has managed to achieve considerable success. She believes that if African Americans can advance throughout the industry, the racial divide would decrease.
​"Real-estate is one of those wealth-creation industries that could help deal with the racial gap," Jones said.
There is a major effort to diversify real estate across the board, and The Real Estate Associate Program (REAP) has been connecting young minorities with a network to help them develop and prosper. The ten-year-old program has helped more than 1,100 African Americans, Hispanics, Asian-Americans, and Native Americans graduate from REAP Academy, a ten-week program "that teaches the basics of real estate development and finance."
​To learn more about the importance of diversity in the real-estate world, please read the full article: https://www.crainsnewyork.com/features/building-diversity-theres-long-way-go
# # #
If you believe you have been a victim of discrimination, whether in the real-estate context, or otherwise, do not hesitate to reach out to a member of our Civil Rights Group, at 212-619-5400.
# # #
For the latest updates, follow Newman Ferrara on Twitter, Facebook, and LinkedIn.