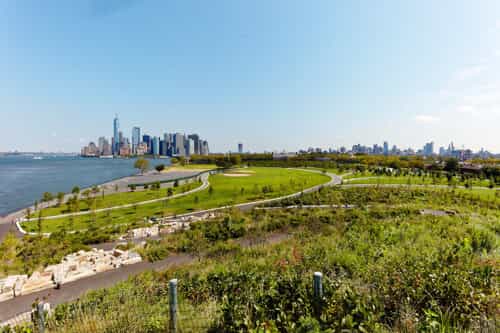 Governor's Island, located off southern Manhattan, has been a mysterious piece of real estate for hundreds of years.  
The 172-acre island has been an outpost of the Dutch West India Company, a Civil War prison for Confederate soldiers, a Coast Guard command center, and even a meeting spot for President Ronald Reagan and Soviet leader Mikhail Gorbachev.  
The land was under U.S. Government control until 2003, when the Island was sold to the City and State of New York, at a "nominal cost," subject to the restriction that the land be used for "public benefit." And since that transfer, the island "has been in search of a purpose," noted New York Times writer Christopher Flavelle.  
Flavelle recently reported that the City plans on transforming the southern part of the island into a "'living laboratory' for coping with the effects of climate change."  
The Island will become "a major center for climate adaptation research, commercialization, conversation and policy-making," according to a request for proposals that the City recently released to developers and other stakeholders.  
"Being an island in the middle of the harbor – there's no better place to put the heart of climate adaptation and education," said Michael Samuelian, former head of the trust that runs the island. 
While the goal is to further education, New York City is cognizant of the fact that it needs a way to pay for the island's maintenance. "The reason why there are development opportunities on the island is to generate money that will allow it to be sustainable," said Alicia Glen, former deputy mayor and head of the Board of Trust for Governor's Island. 
According to Crain's New York, the City invested more than $300 million in "revitalizing parts of the 172-acre island, which offers some of the City's best views of Lower Manhattan and Downtown Brooklyn."  Some of the current top tourist attractions include a 43-acre park as well as a 40,000-square-foot arts center.   
Unaware of what the final plan will look like, the City is asking consultants to come up with some ideas so that the concept can be pitched to foundations and universities.  The plan is expected to take shape within the six weeks or so. 
# # # 
To read Christopher Flavelle's report about the conversion of Governor's Island, please click here. 
# # #
For the latest updates, follow Newman Ferrara on Twitter, Facebook, and LinkedIn.