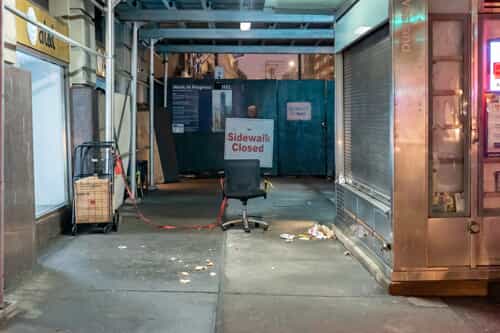 According to a new study released by New York City Comptroller, Scott M. Stringer, retail vacancies have doubled in the New York City area over the last decade.  Pursuant to his office's analysis: 
in 2017, the city-wide retail vacancy rate was 5.8 percent, up from 4.0 percent in 2007; 

vacant retail space increased by 5.2 million square feet over the last ten years; and 
although Manhattan has neighborhoods with extensive empty retail space, retail vacancy rates are highest in outer boroughs with larger retail spaces, such as malls, and notably on Staten Island, where the vacancy rate is almost 11 percent.  
The New York Post reported that Stringer believes "we have a retail vacancy crisis in our city."  He continued, "We need our city government to act fast and in a much more coordinated fashion."  
The Comptroller's study placed the blame on Amazon, and the increasing reliance on shopping via the World Wide Web.  
"Regression analysis shows Amazon sales are positively, and statistically significantly, associated with retail vacancy, driving vacant retail square footage in New York City higher by nearly one percentage point between 2007 and 2017," the report reads.   
While physical storefront shopping businesses decline, Amazon sales are rising dramatically – with sales increasing from $14.8 billion in 2007, to over $177 billion some ten years later.  
The Comptroller's spokesperson, Mary Cao, believes that the outdated zoning regulations are creating issues throughout the city. "The regulatory hurdles and outdated zoning processes are leading to this increased vacancy by shutting out retailers and restaurateurs," she claims.  
In SoHo, for example, where parts of are zoned for manufacturing, the City's review process for a new store or restaurant can take up to three years.   
But the outer boroughs are taking the biggest hit, with Staten Island zip codes getting zonked the hardest in "both vacant square footage and vacancy rates."  
In 2007, the area that had the highest vacancy rate was Times Square (360,395 square feet). Fast forward a decade, and now Mid Staten Island has become king of the hill (439,870 square feet).  
Comptroller Stinger wishes our local government would step up and not neglect this growing vacancy epidemic.  Taking a swipe at Mayor de Blasio, Stringer added, "I want him to come back and govern the hell out of this city.  We want our mayor to come and lead, that's why he's the mayor." 
To read the full study, click here.