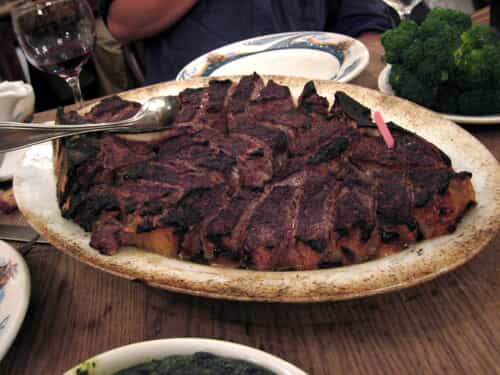 It's supposed to be the "mecca of steakhouses," with a formula that restaurants across the country have attempted to replicate.  But a reviewer from the New York Times now thinks a highly regarded establishment has lost its way. 
On October 29, food critic Pete Wells wrote an unanticipated piece that went viral on the Internet, as he trashed the world-renowned Peter Luger Steakhouse (over in Brooklyn, New York), and awarded it a "zero star." 
Apparently, his conclusions weren't based on a single dining experience, but the deterioration, in his view, was slow and gradual. "I don't remember when the doubts began, but they grew over time," Wells reports.  
Service lapses irked the reviewer.  He complained about the waiters no longer telling cheesy jokes, and expressed disdain for the reservation system, and the long waits. "A kind word or reassuring smile from somebody on staff would help the time pass. The smile never comes." He continued, "The Department of Motor Vehicles is a block party compared with the line at Peter Luger." 
But Wells didn't stop there.  "The shrimp cocktail has always tasted like cold latex dipped in ketchup and horseradish. The steak sauce has always tasted like the same ketchup and horseradish fortified by corn syrup," he wrote. "Was the Caesar salad always so drippy, the croutons always straight out of a bag, the grated cheese always so white and rubbery?" 
One would assume Luger's porterhouse, the establishment's main attraction, would be stellar. But Wells thought it also faltered.  "What gnaws at me every time I eat a Luger porterhouse is the realization that it's just another steak, and far from the best New York has to offer," he wrote. 
Scathing from start to finish, many readers agreed with Wells's analysis.  Bill Heater from Boston, Massachusetts, noted, "My son wanted to go to Peter Luger's for his graduation from N.Y.U.  I wanted to tell him that there are better places in New York. In fact, I wanted to tell him that most steak places in New York are better than Peter Luger. But I didn't." 
Heater continued, "We went. We spent a lot of money. And on the way out the door he said to me, 'I don't get why this place is such a big deal.'" 
Lucas A. Ferrara, Senior Partner of Newman Ferrara LLP, and an Instagram food critic -- with over 13,500 followers -- laughed when asked for his reaction to the Times piece. "It's about time a food critic expressed some candor and exposed an establishment that, for too long, has gotten away with serving swill.  I haven't been to Luger's in years, and there's a reason for that.  I always thought it was a big, fat, nothing." 
# # # 
To read Well's full review, click here.  
# # # 
To follow Lucas on Instagram, go to @LucasAFerrara