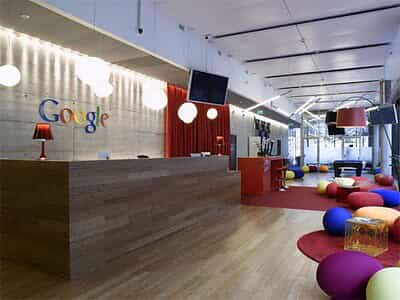 For some twenty years, there was a belief that the best software developers were predominately located in Silicon Valley, California. 
In 2003, Google's upper echelon was "skeptical" that the company would be able to find competent and "Google worthy" software developers in the New York City area.  But a Google computer scientist, Craig Nevill-Manning, had strong feelings about opening offices in Manhattan and the company ended up finding extraordinary software developers.  Such was their success, that that they now employ over 7,000 locals, as The New York Times reports.  
Given its east coast triumph, expansion of their Hudson Square facility in downtown Manhattan has begun. The property, which was originally a freight terminal off the Highline, is being redeveloped into a state-of-the-art campus in a $1 billion effort to grow the already juggernaut tech company.  
According to a floor schedule released by the City, the building will feature "ground-floor retail, staff lockers, workshop and break rooms in the cellar, and a room for up to 237 bicycles."  
As Crain's New York reports, "Google is set to become the city's sixth-largest commercial tenant after its Hudson Square campus opens." 
All initial skepticism aside, The Big Apple has solidified its status as one of the most respectful tech hubs in the USA.  As the Times reports, New York City "consistently ranks" second behind the Bay Area in tech-related venture capital. However, the work force is still at less than half of San Francisco's.
Former Mayor Michael Bloomberg played a major role in nuturing this particular sector.  "He pushed initiatives to make the New York economy less dependent on finance and championed tech programs and education," the New York Times story reads. The rise of tech has led to an abundance of jobs which ultimately acts as a market catalyst. This booming industry is just another part of "New York's huge and diverse economy, and its culture."  
The Hudson Square renovation is expected to be completed by 2022.  To read more about the development of Google's new campus, please click here. 
# # #
For the latest updates, follow Newman Ferrara on Twitter, Facebook, and LinkedIn.