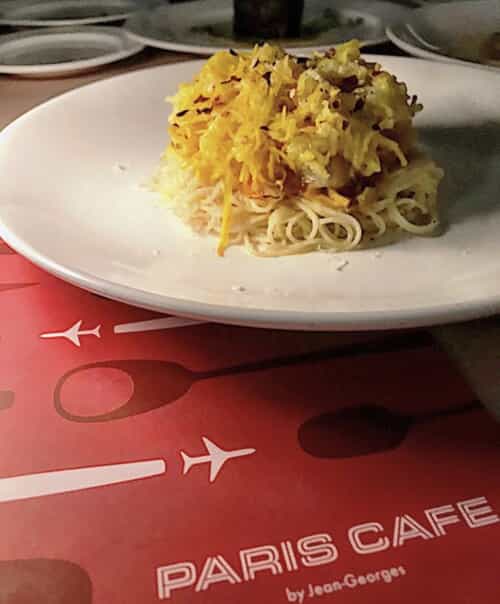 If you've never had "spaghetti squash" or "vegetable spaghetti," it can certainly be an interesting diversion from regular pasta (when prepped right), particularly if you're looking for a gluten-free, low-carb alternative.

After this yellow-skinned cultivar is cooked, the interior "flesh" of this fruit will separate into ribbons (or strands) that have a spaghetti-like look.

Enticed by the "Angel Hair with Summer Squash" — parmesan cheese and chili ($25) — we saw on the menu, we thought we'd give it a try. After all, we were at Cafe Paris, Jean-Georges Vongerichten's new place at the TWA Hotel, which only opened a little over five months ago.


[Again, you'll find the hotel and restaurant on the grounds of JFK International Airport (Jamaica, Queens). Head out for a visit if you're a lover of landmarked architecture. It's a spectacular space.]

And if you're on the hunt for food that looks like it's been recently regurgitated, then this dish is for you. Particularly given the $25 price point, we thought we deserved better than some squash shavings and a puny serving of nondescript (dry) pasta masked with a little cheese.

Putting aside that any health benefits were negated by the combination, the "nutty" smoothness of the fruit was wrongfully muted by this particular pairing. And given that some thought the $25 ask was "highway robbery," the scoring ended up quite low, causing this feeble plate to rate a dishonorable "F."


Best to quash this squash, if you ask me ....
# # #
Follow Lucas on Instagram: @lucasaferrara