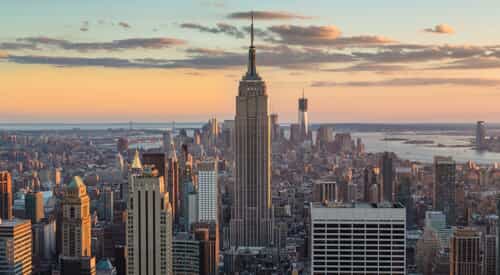 For some, the New York City skyline reached its apex in 1931, when the 102nd floor of the Empire State Building was completed. 
The building's observatory has been a main tourist attraction, for many decades, as it offers some one of the best views of the New York City area (and beyond). Interestingly, that unparalleled experience was recently enhanced with $165 million in upgrades and improvements.  
As Crain's New York reports, the observatory is now equipped with "floor-to-ceiling, 360-degree windows."  Prior to that work, the observatory had windows which were about half the size. 
Visitors now have the option of visiting an exterior, open-air experience on the 86th floor. And Business Insider reports that the newest phase of the renovation also includes a second-floor museum. Once just a "hallway" of elevators, the museum consists of a multimedia room and an interactive section.  
Interestingly, the renovation certainly took long enough.  While the entire building was erected in about 15 months, these observatory improvements took some four years.  And critics of the $165 million project wonder why the owners of the Empire State Building needed to effect any change at all, since the building already generates over $100 million in visitor-related revenue, annually.
"What we really wanted to do was to connect with people… give them something magical. So 102 is the absolute pinnacle of that magic." said Tony Malkin, who runs the Empire State Building. 
# # #  
To read more about the project, click here. 
# # # 
For the latest updates, follow Newman Ferrara on Twitter, Facebook, and LinkedIn.