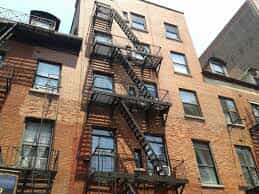 In 2016, a group of 68 tenants in 22 buildings sued A&E Real Estate Holdings for illegally raising the rent in their apartments, which are scattered across the City's different boroughs, and are "jointly pressing the case in search of refunds and monetary damages for any overcharges and also reduction to any rents that were illicitly raised," reported Crain's New York. 
Partner Lucas A. Ferrara, and senior associate Roger Sachar, of Newman Ferrara LLP are spearheading the litigation on behalf of the tenants in this action.  "We have a viable case, and the judge ruled that we may proceed on the merits of our claim," Ferrara told Crain's.  
Aaron Carr, the founder of the Housing Rights Initiative (HRI), the watchdog group that uncovered the underlying irregularities, noted that a victory "opens the floodgates for similar rulings in other situations where there had been improper rent increases."  
As we have previously advised our readers, many NYC landlords are displeased with the new rent laws.  A few have even raised constitutional challenges.  But while the landlord in this case alleged "due process," "contracts clause," and "taking" concerns, the judge assigned to this dispute gave those arguments short shrift, characterizing them as "unmoving."  The Court indicated that it refused to overstep or second-guess the New York State Legislature noting, in part, "this Court will not 'dictate to the legislative body the choice of remedy to be selected; questions as to wisdom, need or appropriateness are for the Legislature.'" 
As Crain's noted, "The new rent rules also help tenants who believe their landlord overcharged them, requiring landlords to provide six years of rental history that tenants can use to gauge when an owner may have raised a regulated unit's rent and for what type of purported renovation."  (Previously, tenants were only afforded a four-year lookback.)  
Ferrara and Sachar are also involved in other similar cases where tenants are suing for illegal rent raises. Read about them by clicking here and here. 
# # # 
To read the full Crain's New York report, please click here.  
# # # 
To view a copy of the Court's decision, please use this link.