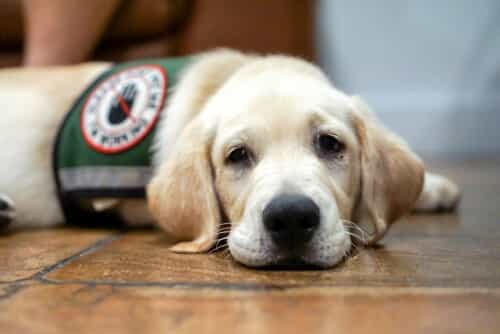 An Administrative Law Judge hit a Manhattan restaurant owner with a $64,000 fine, after the establishment's employees refused to seat a disabled customer with a service animal -- a violation of the City's Human Rights Law.
"In short, the record in this case supports a finding that [owner Besim Kukaj runs] a large, long-standing, sophisticated business enterprise and should have been fully aware of [his] legal obligations," wrote the Judge.
Apparently, back in July of 2017, Henry Goldstein attempted to have lunch at "Limon Jungle" in Manhattan's Hell's Kitchen and was informed by a waiter that dogs were not permitted in the establishment. After informing the employee that it was a service dog, a manager asked for papers, which Goldstein did not have in his possession.
Carmelyn P. Malalis, the Chair and Commissioner of the NYC Commission of Human Rights weighed in on the topic. "Everyone deserves to be able to live their lives with dignity and respect, and that includes New Yorkers with disabilities who rely on service animals to help them with their day-to-day activities," Malalis told the Wall Street Journal.
The representatives of the restaurant defended the actions by claiming that they cannot allow dogs because it would violate local health codes and, without papers, they were unable to confirm that the dog was, in fact, a service dog.
Debra Cohen, co-Chair of Newman Ferrara LLP's Civil Rights Group, noted, "The law is clear that bona fide service dogs cannot, and should not, be excluded from restaurants and other public facilities." She added, "Both dog- and business-owners need to be acquainted with these fundamental rights in order to avoid needless conflicts."
# # #
To view a copy of the Wall Street Journal article, click here.
# # #
To view a copy of the Commissioner's determination, click here
# # #
If you are a victim of discrimination, please contact one of our Civil Rights attorneys at 212-619-5400.
# # #
For the latest updates, follow Newman Ferrara on Twitter, Facebook, and LinkedIn.