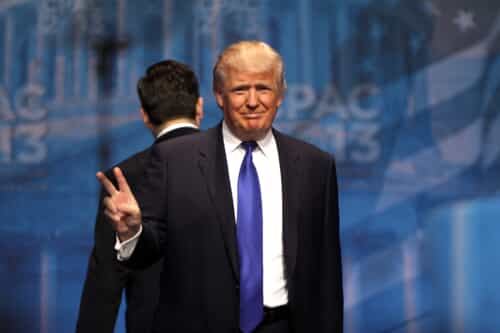 Back in the 1980s, decades before Donald Trump entered the Oval Office, he had an ambition and drive to develop Manhattan's far West Side.
In 1985, when he purchased the abandoned Penn Central railyards between West 59th and West 72nd Street (adjacent to the West Side Highway), his mega-plan initially included turning that area into "Television City," in the hopes of attracting NBC to move from 30 Rockefeller Center. However, financial challenges kyboshed that vision and led him to erect smaller residential towers overlooking the Hudson.
The rest of the Riverside South land was purchased in 2005 by Extell Development, which constructed several other buildings in the area, such as the "Avery" and the "Rushmore." And in 2015, GID Development Group purchased the areas between West 59th and West 61st Street for $676 million, and that eventually led to the completion, this year, of "Waterline Square" -- which features three residential towers with 263 condos, a 2.6-acre park, and a 100,000 square-foot sports recreational complex.
"For the first time ever, that far West Side neighborhood along the Hudson River, from 59th to 72nd, will now be cohesive," said James Linsley, the President of GID Development.
Developers are now giving the current President credit for recognizing the area's potential, decades ago. "I think you really have to go way back to Donald Trump," said Gary Barnett, the President of Extell Development. "It was his vision and his idea and his persistence in getting all of this approved."
# # #
Should you require assistance with a real-estate transaction, of any kind, please feel free to call one of our attorneys at 212-619-5400.
# # #
To read the full Crain's New York article about the development, click here.
# # #
For the latest updates, follow Newman Ferrara on Twitter, Facebook, and LinkedIn.