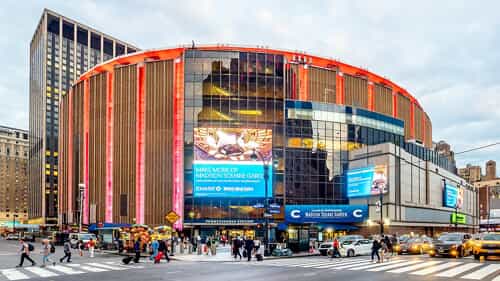 On November 7, the Madison Square Garden Company – a "live entertainment company" -- unveiled a new plan that will modify the nature of its business.  Changes include relinquishing equity in the New York Knicks and the New York Rangers, the two professional sports teams that play in the "The World's Most Famous Arena."  
Comprised of entertainment and sports holdings, the company currently has interests in venues throughout the City, such as The Beacon Theater, Radio City Music Hall, and MSG's Hulu Theater. And the current plan for the first quarter of 2020 is to "separate MSG's sports teams from its entertainment assets," the New York Post reports.  
MSG owner Jimmy Dolan seeks to spinoff his sports franchises. 
"Nothing has changed from a Dolan-control perspective," Brandon Ross, an analyst at LightShed Partners said to Crain's New York. "They were going to sell part of the team, but he would have retained voting control. Now they're not selling and he's still in control." 
MSG shares dropped over 9% in August when the company announced delays and cost overruns associated with the construction of its "Las Vegas Sphere," a new entertainment venue in Nevada. 
The fans of the teams have not been in love with Dolan for a long time. The Knicks fanbase has been eager for him to sell because of the team's inability to win games for the past two decades. 
Originally, MSG had sought to spinoff two-thirds of its interests in the teams to MSG's current shareholders, while retaining a one-third stake for itself. Fans believed that might have signaled the end of Dolan. However, don't be surprised if the guy doesn't disappear as fast as many would like. 
# # # 
To read the full report, click here.  
# # #
For the latest updates, follow Newman Ferrara on Twitter, Facebook, and LinkedIn.