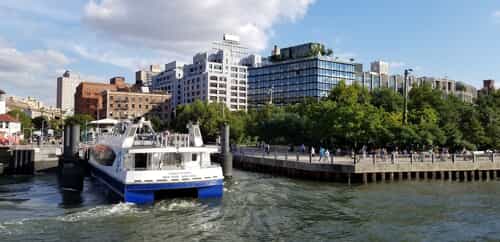 Last September, three Muslim mothers and their eight children were denied access to a NYC Ferry which travels from Wall Street to Bay Ridge. And a complaint, filed by the New York Chapter of the Council on American-Islamic Relations, suggests that boarding was falsely premised upon "security issues."
While their outbound journey went without a hitch, on their return trip, two ferry employees prevented the Muslim families from boarding because the ladies had "pronounced accents," and were wearing hijabs -- "religious headcovers, and long dresses covering their legs and arms for religious purposes," reads the suit.
"These families were humiliated and traumatized in public view and treated as suspect because they happen to be Muslim. That is unacceptable. We hope the City will live up to its commitment of nondiscrimination and swiftly correct this injustice," CAIR-NY Litigation Director Ahmed Mohamed said in a statement.
The employees initially claimed to have told the family they were denied passage because the children had been "standing on the seats." But NBC News reports that ferry officials later conceded "that the proffered reason was false.'"
Calling the incident a "misunderstanding," New York Ferry offered to reimburse the fares, but CAIR is seeking compensatory damages for the "humiliation, embarrassment, and severe emotional distress," punitive damages "to deter future reprehensible conduct," a formal apology, together with discipline for the workers involved.
The NYC Ferry system also recently came under attack when a study revealed that our tax dollars are being used to support a transportation mode that is primarily utilized by white, affluent riders. See our report on that study, here: https://www.nyrealestatelawblog.com/~/manhattan-litigation-blog/2019/october/ferrying-the-wealthy-/
# # #
Should you be the victim of discrimination or have a question about a Civil Rights matter, please do not hesitate to reach out to a member of our Civil Rights Group at 212-619-5400.
# # # 
For the latest updates, follow Newman Ferrara on Twitter, Facebook, and LinkedIn.