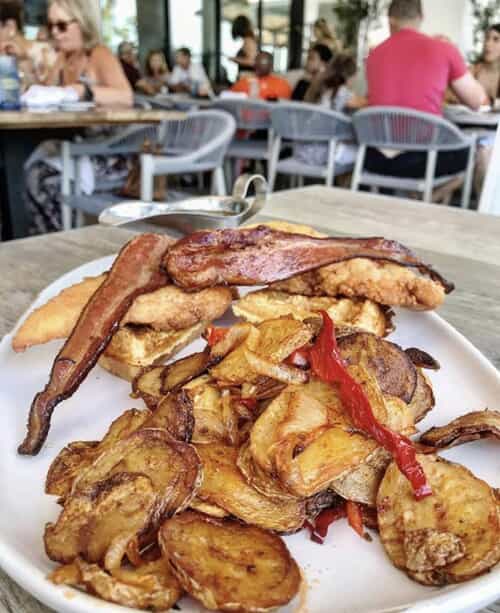 Things were going downhill at "Oceanic" (at 250 North Pompano Beach Blvd) after our delicious "Smoked Salmon" appetizer (reviewed Friday), and our mediocre "Beach Burger," (reviewed yesterday), but we were keeping an open mind since the place is relatively new — opened late August 2019 — and is still finding its legs.

In any event, the restaurant has a good pedigree. The owners, Joy & Lou Moshakos, opened "Seafood Shanty" some 40 years ago, and Chef Brian Cantrell has been associated with "Blue Moon Fish Co.," "Thasos," "The Avalon," and "The Office."

Given that collaboration, we had high hopes for our next course, the "CHICKEN + WAFFLES" — Fried sweet tea brined chicken, buttermilk waffles, bourbon aged maple syrup, thick cut bacon, marble potatoes ($17).


Since one of my guests had a dietary restriction, we made it quite clear (noted several times), that we did NOT want the bacon. Three guesses what came to our table?

After the plate was returned to the kitchen, the waiter graciously apologized and informed us that a new order was being prepared (but that we needed to wait another 10-15 minutes).

While that error certainly cost this place some points, when the corrected dish finally arrived, we not only found the waffles bland and dry, but the chicken wasn't as tender and succulent as we would have liked.

It also would have been nice if someone had skimmed the unsightly layer of crystallization (?) that topped the syrup. And we also thought the potatoes should have been a bit crisper or crunchier, but enjoyed their herby, well-seasoned taste. Alas, those savory spuds weren't enough to save this dish from its (generous) "C" score.

What's the takeaway? Well if you're looking for some outdoor seating with a beautiful beachside view, and aren't picky about food prep (or the accuracy of your order), why not give Oceanic a try?
# # #
Follow Lucas on Instagram: @lucasaferrara