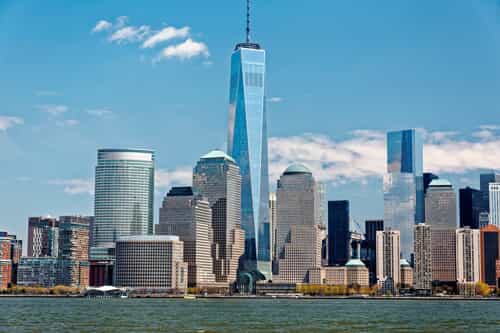 Jeehoon Park, a Georgia-based architect, believes he is the man behind One World Trade Center's design and that he's receiving no credit for his work.
Two years ago, Park sued the four mega groups behind the development of the Financial District skyscraper for allegedly ripping off his concept, as The Real Deal reports. While Park had many claims, Manhattan Judge Richard Sullivan allowed only three to proceed to the discovery phase.
The man's lawsuit asserts "copyright infringement" over a design Park created for his 1999 thesis at the Illinois Institute of Technology and has sued Skidmore Owings & Merrill (a highly regarded architectural firm), Tishman Construction, the Port Authority of New York and New Jersey, and The Durst Organization – all of whom are titans of the City's development community.
Interestingly, the suit claims that Park's thesis adviser at Illinois Institute of Technology was a partner at SOM. "Judge Sullivan recognized the obvious and substantial similarity between Mr. Park's design and the infringing building," Park's lawyer noted in an email. "The court could have dismissed all of Mr. Park's claims, but did not, and the remaining claims appear to have significant value."
Meanwhile, SOM finds it "inexplicable" that "Park filed his suit after Tower One was completed and a full decade after the building's design was first unveiled." While the firm expressed pleasure that many of Park's claims were dismissed, it is now focused on defending the originality of the design.
# # #
To view the full report by The Read Deal, click here.
# # # 
For the latest updates, follow Newman Ferrara on Twitter, Facebook, and LinkedIn.