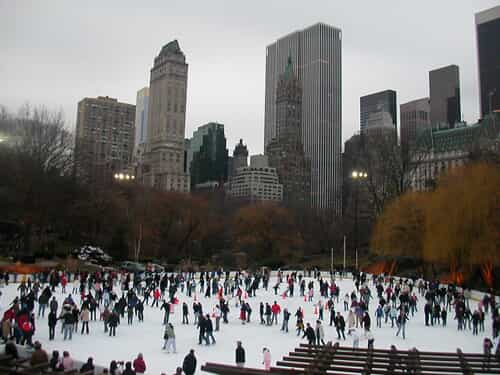 In 1986, Donald Trump promised the then Mayor, Ed Koch, that the Central Park Ice Rinks could be rebuilt within six months. (Trump's team ultimately needed just three.)
Thirty-three years later, in the midst of The Donald's presidency, the Trump Organization announced that the rinks will be renamed and rebranded, even though The Trump Organization will still operate them "under a concession from the city."
The President's lack of popularity with New Yorkers has apparently caused his named to be removed from a number of New York properties, including the Trump SoHo Hotel (now called the "Dominick"), and some former "Trump" condominiums, the New York Times reports.
Since the rinks' opening, the inner dasher board read "TRUMP" in large, red letters. However, that signage was recently removed and now reads, "Wollman Rink NYC Central Park."
While Trump executives are claiming the renaming isn't politically driven, recent reports from the Parks Department show that revenue from the rink dropped from $9.3 million to $8.7 million for the period September of 2017 to September of 2018. "There has been evidence that Mr. Trump's business interests, which are now being overseen by his sons Donald Jr. and Eric, have been hurt since the onetime real estate magnate and reality-television star became president," the New York Times further advises.
# # #
To read the full report in the New York Times, read here.