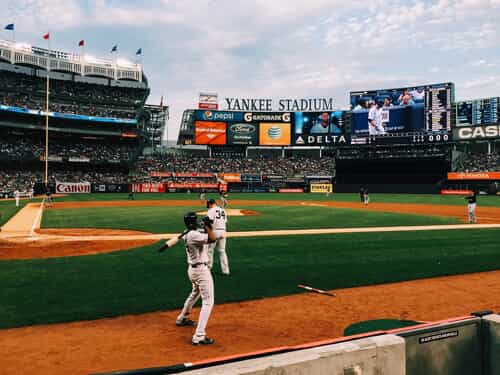 Major League Baseball (MLB) and Nike have teamed up, and this new deal will place the Nike logo on the front of all MLB player jerseys. But that decision will adversely impact the mom and pop stores outside of Yankee Stadium that sell the team's merchandise.
​​"According to Bronx Borough President Ruben Diaz Jr., the newly inked retail strategy will bar eight licensed apparel stores near Yankee Stadium from selling any pinstripe merchandise when the crackdown on non 'premium distribution points' takes the field in 2020," reads amNewYork.
Understanding that smaller businesses outside of Yankee Stadium may suffer from this new arrangement, the Yankees reached out to the 161st Street BID and asked for a list of all the stores that are endangered. (The team plans on approaching Major League Baseball to help resolve the issue.)
"The magnitude of the problem is extreme," Yankees COO Lonn Trost wrote to MLB. He also confirmed to amNewYork that the MLB "is working with Nike to amend the situation."
Both the Yankees and the Borough President's Office made it clear to Nike that stripping these local stores of much needed revenue would be "detrimental" to the South Bronx economy. "Taxpayers provided this stadium with nearly $1.2 billion in public subsidies," according to Diaz Jr.
While the Yankees have a team store on-property, they also profit from the River Avenue businesses -- with those vendors spending over $1 million a year on the team's licensed gear.
# # #
To read the full piece on amNewYork, please click this link: https://www.amny.com/yankees/exclusive-small-bronx-businesses-cut-out-of-nike-mlb-mega-deal/
# # #
For the latest updates, follow Newman Ferrara on Twitter, Facebook, and LinkedIn.