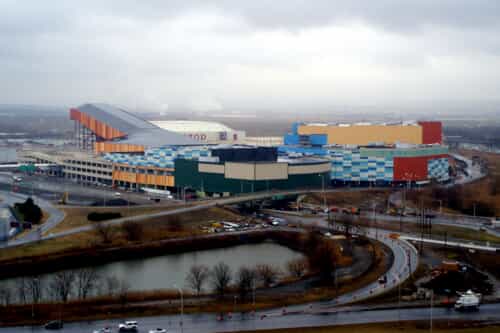 On October 25, 2019, the "American Dream" retail and amusement complex opened its doors.
Located in the Meadowlands -- across from Metlife Stadium (home of the New York Giants and New York Jets) -- the project is considered New Jersey's first "mega-mall."
In addition to standard retail shopping options, it also includes entertainment features such as the Nickelodeon Universe Theme Park, the DreamWorks Water Park, as well as the first indoor snow sports complex.
An easy drive from New York City, the owners of the American Dream expect it to be a "must-see" destination for visitors from across the country.
"We know the community has been eagerly awaiting the launch of this incredible global destination," Don Ghermezian, the president of American Dream told Crain's New York.
In conjunction with urban retail's downward spiral, suburban community malls throughout the USA have also been taking a hit, as consumers no longer seem to have need for them. But Crain's reports that local North New Jersey malls and shopping centers have been relatively successful, partially because, "the state doesn't charge sales tax on clothing, a welcoming relief from the 8.875% rate shoppers will pay for large purchases over the Hudson River in nearby Manhattan."
Experts believe that the opening of American Dream will not be beneficial for all, and that it may adversely affect some smaller shopping centers. "Some of the smaller malls that are just surviving, with American Dream opening, they may have more struggles ahead of them," said Poonam Goyal, an analyst at Bloomberg Intelligence.
Others have expressed concern that once the project's novelty wears off, even this mega-mall may lose its "sizzle." And that while visitors may come at least once, the overarching question is whether the experience will be unique and enjoyable enough, so that they'll be incentivized to return.
# # # 
For the latest updates, follow Newman Ferrara on Twitter, Facebook, and LinkedIn.