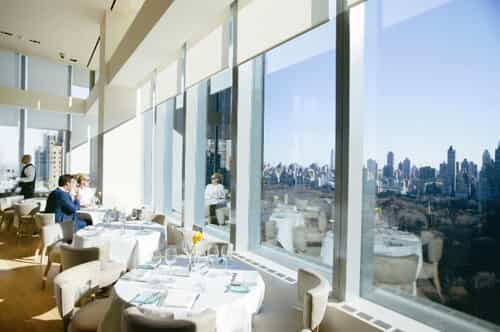 The Park Hyatt New York, located on 57th Street, has just converted a three-bedroom apartment into a $50,000-a-night hotel suite. 
"This isn't for the one 1%. This is for the one-tenth of the 1% or even more exclusive that that," said analyst Patrick Scholes.  
Overlooking Central Park, the 4,200 square-foot suite, with 11-foot ceilings, is a space unlike any other. One of its features includes a walk-in closet.  While you may have seen plenty of those before, this one was styled by Nordstrom and includes clothing available for purchase. 
But it doesn't end there. The suite also includes a butler and a chef, who will serve food to order all made within the suite's kitchen area.   And should guests refuse to sit in traffic, they will have access to a helicopter for transport. 
Interestingly, to book the room, a seven-night stay is required.  If $350,000 is a bit too hefty for you, the next biggest room is about half the size and will "only" run you about $15,000-a-night.  
"With suites making up almost half of the hotel's rooms, the Park Hyatt has experienced a growing demand for these larger lavish suites, especially from big groups traveling together," notes the Wall Street Journal.  
The paper reports that the Park Hyatt was able to create this decadent living area due to "Manhattan's high-end condo glut." The hotel, which sits at the base of the residential skyscraper, known as "One57," is a development project which has about 15% of its tower units unsold -- including the space that has been converted into the mega-suite.  
Apparently, the property's international travelers have inspired the concept. "The Park Hyatt New York's other 92 suites have done well with customers from Russia, the Middle East, South American countries such as Brazil and in Asian markets like China," reads the Journal.  
# # # 
To read the Wall Street Journal's full report, please click here (subscription may be required) 
# # # 
Should you require assistance with a a closing or other real-estate transaction, please do not hesitate to contact one of our attorneys at 212-619-5400. 
# # # 
For the latest updates, follow Newman Ferrara on Twitter, Facebook, and LinkedIn.