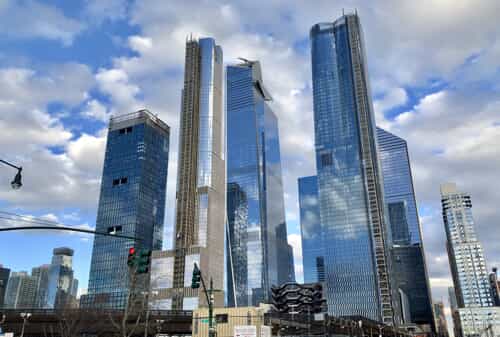 The Michelin Guides are among the most revered guidebooks in the world. Their coveted reviews are trusted by readers across the globe, and many consider it a great honor to be featured in any edition of the publication
Hudson Yards, on the West Side of Manhattan, was marketed for "its array of restaurants." The $25 billion development, which opened in March, offers a number of eateries headed by some of the country's most renowned chefs. Interestingly, none of those highly anticipated restaurants earned a star rating in the latest edition of the New York Michelin Guide.
Those snubbed included Chef Thomas Keller's "TAK Room" and Chef David Chang's "Kawi." (These two establishments did receive a "Plate Recognition," a below-star-level acknowledgement.)
Neither the Hudson Yards' developer, Related Comapnies, nor any of the chefs, commented on the record in response to a recent Wall Street Journal story on this topic.  But restaurant consultant, Arlene Spiegel, cautioned "against reading too much into the star decision." She is of the view that because the Yards are still "new," rankers may want to give the restaurants time to develop and make a name for themselves.
Senior Partner, Lucas A. Ferrara, who is himself an Instagram food reviewer (with over 13,600 followers), warned that, "People shouldn't be 'sheep' or fall for any of the hype. Since 'taste' is subjective, no one source of food criticism should be singularly dispositive. Consumers should weigh all the different information at their disposal, as they each see fit, and make decisions that are consistent with their personal preferences and budgets."
Ferrara continued, "I've been to many of those 'starred' establishments and can tell you, from firsthand experience, that I've found quite a few of them to be less than stellar."
# # #
To read the underlying story on the 2020 Edition of the New York Michelin Guide, please read the Wall Street Journal's full report.
# # #
Follow Senior Partner Lucas A. Ferrara's food adventures on Instagram: @lucasaferrara