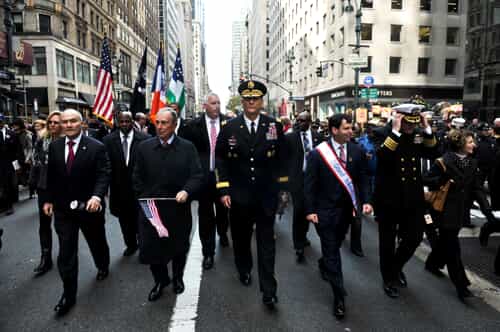 At a Gracie Mansion Veteran's Day breakfast, NYC Mayor Bill de Blasio announced a major expansion of mental health services, specifically targeted for the area's former servicemembers.  "As the son of a World War II veteran, I know the men and women who serve our country can carry a tremendous pain that is still felt years or decades later," the Mayor said. 
According to the de Blasio's press page, new programs will focus on different aspects of assistance, such as mental health support, PTSD treatment, holistic services, peer support, and an Interagency Mental Health Task Force.  The City will also provide grants for an array of legal services that will assist vets with their particularized needs – such as helping LGBTQIA+ servicemembers challenge their discharge status based on their gender identity, for example. 
"With an honorable discharge status, more veterans will be able to receive VA services previously denied to them, including mental health," notes the press release. 
First Lady Chirlane McCray observed, "Far too many veterans struggle to transition back into civilian life following their service, and it's our duty to make sure they feel our support when they return from active duty."  
 # # # 
To read the full press release, click here.  
# # # 
For the latest updates, follow Newman Ferrara on Twitter, Facebook, and LinkedIn.