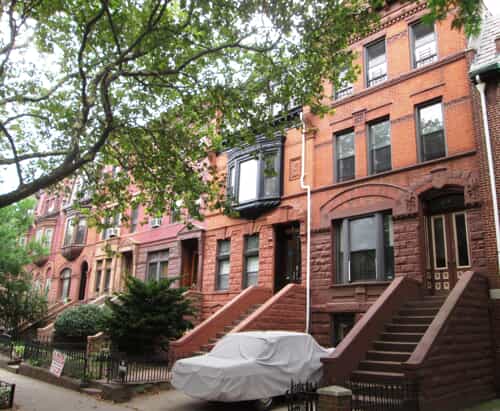 African American homeowners are reportedly the main targets for what is considered "deed theft." As the New York Times recently described it, the crime "involves deceiving or sometimes coercing a homeowner into signing forms that transfer ownership of a property."
Reporter Kimiko de Freytas-Tamura recounts the story of Broadies Byas, an African-American owner of a Victorian townhouse with "tall ceilings, a mahogany staircase, stained glass doors and picture frames virtually untouched since the home was built in 1856." The Bedford-Stuyvesant house was bought by her father in 1957 for $7,500. The home is now worth $1.2 million. Unfortunately, Byas was "duped" into signing away her property for only $120,000.
"I felt like the stupidest person on the planet," said Ms. Byas. She is now fighting to reclaim the property.
According to the Department of Finance, since 2014, there have been nearly 3,000 reports of deed fraud, of which approximately 45% have come from Brooklyn. Bedford-Stuyvesant and Crown Heights are known for their beautiful townhouses that cost a fraction of what comparable Manhattan structures would cost and have become "hotbeds" for such evil misappropriations.
Freytas-Tamura also tells the story of Darius Griffiths, a 65-year-old man, who has been in a five-year legal battle to regain ownership of his home in Bedford-Stuyvesant -- worth $1.3 million – which he gave up for $630,000.
Griffiths was running behind on mortgage payments because one of his tenants stopped paying rent. Facing foreclosure, a man who claimed to run a real-estate firm in Queens approached Griffiths and offered a "cash advance" so he wouldn't lose his home. Instead, he ended up selling the home for $630,000, thinking it was a "preliminary sales agreement that he would have the chance to reconsider."
Not surprising, the alleged schemer's attorney refutes the claim and asserts that the sale was "legitimate."
"Recovering a home whose deed has been illegally transferred can be difficult unless there is clear proof of wrongdoing, like a forged signature," the New York Times reads. It also can be difficult to decipher whether someone was victimized by fraud, or is suffering from "seller's remorse," because they made a "bad deal." "It's often a very hard line to straddle," Noelle Eberts of the New York Legal Assistance Group says.
"Exploitation of an individual's lack of knowledge, or vulnerability of any kind, is unacceptable and inexcusable," noted Ricardo M. Vera, a partner at Newman Ferrara LLP. "Unless it's clear that the transaction was made with full knowledge of all rights, and that the individual was given ample opportunity to confer with independent counsel of his/her choosing, a seller should be given the benefit of the doubt when these kinds of transactions are subsequently questioned." He said, "We, as a society, can neither condone nor allow this kind of pilfering to continue."
# # #
If you have been a victim of fraud, or require assistance with a real-estate transaction, please feel free to call one of our attorneys at 212-619-5400.
# # #
To read the full New York Times report, click here.
# # #
For the latest updates, follow Newman Ferrara on Twitter, Facebook, and LinkedIn.