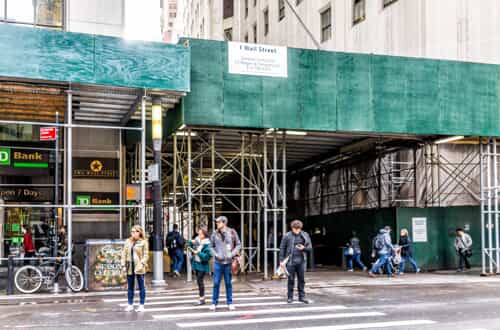 According to The New York Post, on November 11, four construction workers were injured when scaffolding collapsed at Hudson Yards. The FDNY reported that three of the injuries were minor while one was severe, but not life-threatening. (It is unknown what caused the scaffolding to collapse.) 
Since the "NYC Building Boom" began in 2017, the number of injuries and fatalities have risen dramatically. Through July of 2018, 469 people were injured in 457 accidents, according to the City.  
Many of theincidents are quite gruesome, and read like scenes straight out of a horror film. There were reports of live-wire electrocutions, as well as power-tool accidents (including one where a worker accidentally drilled a screw into his own hand).  
The Department of Buildings (DOB) has reported that the number one cause of death was due to "slip and falls," which "compromised more than half (585) of fatal unintentional injuries among construction workers." The report notes that most "fatal falls occurred from scaffolds (25%), followed by ladders (16%) and roofs (11%)." The next leading cause of death -- some 32% -- is from workers being struck, crushed or caught between objects or equipment. 
Under the new legislation, the DOB is required to publish this construction related data online.  
"Every life, injury and accident in construction is finally being counted, because they matter," Upper East Side Councilman Ben Kallos told the New York Post. "We can and must do better as a city to ensure proper training, on the job experience, coupled with the right to say no to danger." 
# # #  
To read a report from the DOB regarding construction injuries, click here.
# # # 
For the latest updates, follow Newman Ferrara on Twitter, Facebook, and LinkedIn.