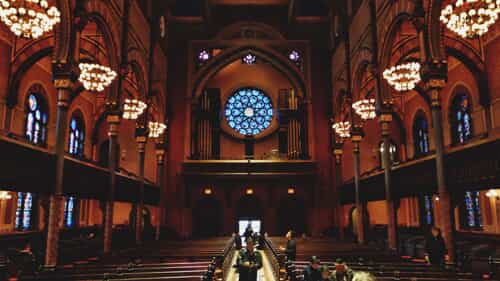 October 27 was declared a "National Day of Action Against Antisemitism" by the American Jewish Committee (AJC).  As the organization's website guides, that day is "dedicated to educating our fellow citizens about this shape-shifting evil and to advocating for more robust measures to combat it." 
Exactly one year earlier, eleven Jewish worshippers were murdered in a Pittsburgh synagogue, marking what the AJC describes as the "worst antisemitic attack in American history."  
Mayor Bill de Blasio was one of the many politicians to attend a commemoration at New York City's Central Synagogue. He spoke about the day's significance and agreed that education is key to stemming this growing tide of hatred.  He observed, "[T]he NYPD has not ignored a single act of hate. And I am, like so many here, a believer in education, a believer in reaching our young people, a believer in spreading positive messages, but I also believe in the power of consequence. Those who would do ill need to see they will never get away with it." 
Other states that have recognized October 27 as "Antisemitism Awareness Day" include California, Connecticut, Florida, Georgia, Illinois, Texas, and Virginia.  
The Jewish Voice reported that Central Synagogue held a candle-lighting ceremony to remember the eleven Pittsburgh victims.  "For over 2000 years Jewish communities worldwide have lit candles in memory of departed soles." said Michael Miller, one of the men leading the ceremony. 
# # # 
To view Mayor de Blasio's full transcript, click here:  
# # #  
If you have been a victim of discrimination, please reach out to one of our Civil Rights attorneys at 212-619-5400.