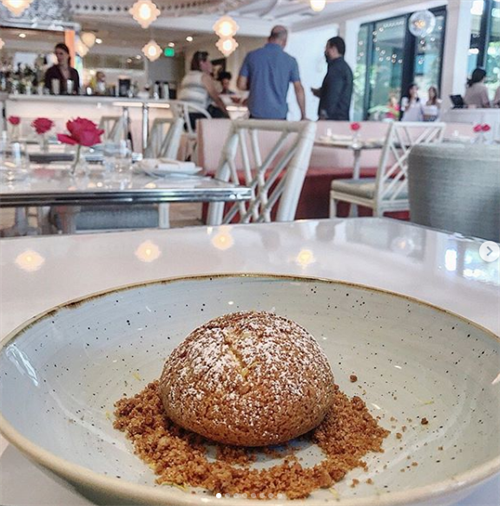 When an establishment lists a profiterole, or "cream puff," on its dessert menu, one usually thinks of a French choux pastry ball filled with whipped cream, custard, pastry cream, or ice cream.

But that's not what you'll get at SWAN, a hip, new restaurant opened by nightclub mogul, David Grutman, singer and songwriter, Pharrell Williams, and, Top Chef Europe, Jean Imber

Their "Vanilla Cream Puff" — citrus, honey streusel ($12) — was more doughy and bready, rather than light and fluffy. And it was more akin to "cake" filled with an OK-tasting "citrus" (orange and lemon?) ice cream, than a "puff."

While it wasn't awful, it wasn't great either. Because it was heavier than what we wanted, or expected, this dessert scored a "C-."

[Personally, I thought that score was on the high side. When a dessert is devoured by those at the table, that's a pretty good sign. This "thing," sat unfinished. Because it didn't pass the description, or consumption, "tests," I rated it an "F."]

I swan!