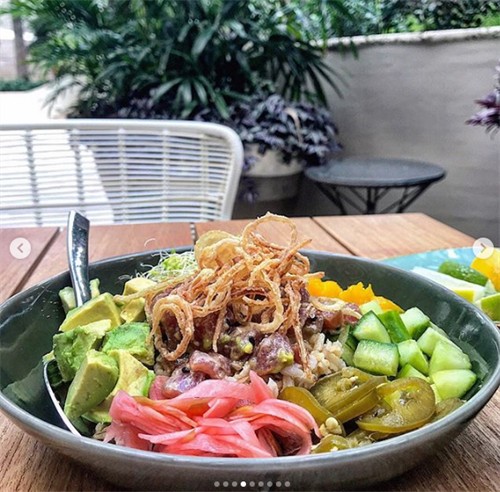 A friend was staying at The Ritz Carlton Coconut Grove and wanted to try Isabelle's Grill Room and Garden — the hotel's only restaurant.

While we found the place empty (and should have accepted that as an omen), at least we were able to sit wherever we wanted.

Even though it's a nice space, and we particularly enjoyed the outdoor "garden area," the food and service, on the whole, were a disaster.

Case in point, our waitress really hawked the "TUNA POKÉ BOWL" — cucumber, avocado, pickled jalapeño, spicy citrus shoyu, sprouts, brown rice, candied radish, crispy shallots ($20). But as you see from some of the initial photos, that ain't what we got.

After a ten minute wait for our server — who was hiding somewhere in the kitchen — it took a few more minutes of "poking" to get her to acknowledge that she had brought over a soupy tartare, rather than a poke.

Some 20 minutes later, when the correct plate finally arrived, we enjoyed the freshness and taste of the fish and veggie components, and scored the item a "B-" (which I thought was a an extremely generous grade, given the order mishap and delay).

I was of the opinion the whole fiasco warranted an "F," (minimally a "C-"), but got outvoted by the more forgiving souls.