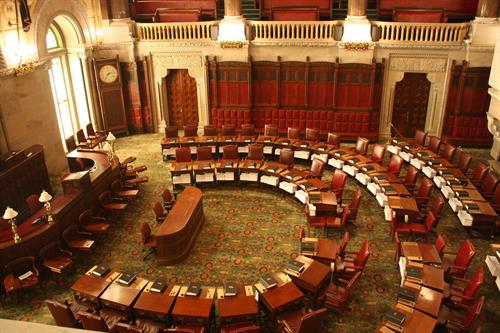 On May 14, 2019, hundreds of New Yorkers gathered at the State Assembly in Albany to rally in support of stronger protections for the city's one million rent-stabilized tenants. Existing rent regulations are set to expire on June 15, 2019, and a package of nine bills is currently pending.
These reforms would close loopholes that allow landlords to deregulate apartments by eliminating preferential-rent hikes, vacancy decontrol, eviction bonuses, and by revising major capital improvements. Below, is an overview of the nine bills currently under consideration:
1. End vacancy decontrol (S2591/A1198)
This bill seeks to repeal a 24-year-old provision that allows landlords to permanently remove apartments from rent stabilization once a tenant moves out and the rent has reached $2,733 a month. The bill also calls for re-regulating units that have been deregulated due to vacancy decontrol. According to citylimits.org, a nonprofit media company, vacancy deregulation accounts for approximately 71 percent of the deregulated units in the past three decades.
2. Preferential rents (S2845A/A4349)
This bill would make preferential rents a permanent fixture. Over 200,000 units in New York City have some type of preferential rent, which means a tenant is paying below the legal rent for a stabilized apartment. However, under current law, landlords can decide to hike the rent and end preferential-rent treatment when the tenant seeks to renew.
3. "Good cause" eviction (S2892/A5030)
Under this proposed law, tenants in market-rate apartments cannot be evicted based on an "unconscionable" rent increase. This means that landlords cannot charge tenants more than 150 percent of the Consumer Price Index (a weighted average of the prices of consumer goods and services every year). Essentially, the bill will cap annual rent increases by a local price index.
4. Expand the Emergency Tenant Protection Act of 1974 (S5040/A7046)
The ETPA only allows governments of certain municipalities (like in Nassau, Westchester, Rockland counties and New York City) to opt into rent stabilization in the event of a local housing emergency. This bill seeks to expand the ETPA's coverage so that renters across the state can seek these rent protections.
5. Eliminate vacancy bonus (S185/A2351):
Typically, when a tenant voluntarily moves out of a rent-stabilized apartment, landlords get a bonus, which allows them to jack up the rent by an extra 18 percent for a one-year lease or 20 percent for a two-year lease, for example. Many housing advocates maintain that the law incentivizes landlords to harass and evict tenants so they can raise rents.
6. Eliminate rent hikes caused by "Major Capital Improvements" (S3693/A6322)
As it now stands, landlords can make "Major Capital Improvements" to the entire building, such as installing new roofs or boilers, and a percentage of that cost is then allocated to the monthly rent of tenants in that building. Advocates argue that landlords have used the law to let their buildings fall into neglect before making necessary repairs and burdening tenants with considerable rent hikes. Further, some landlords have been guilty of grossly inflating or outright lying about the repair costs.
7. Eliminate rent hikes caused by "Individual Apartment Improvements" (S3770/A6465)
After a tenant has vacated, landlords can make arbitrary cosmetic repairs to an individual unit in order to raise the rent. Much like MCIs, landlords can exaggerate the cost of installing a toilet or a doorknob just so they can permanently increase the rent for the next tenant.
8. Four-year "look-back" rule (S4169/A5251)
Much of the rent regulation framework relies on tenants to monitor and enforce any violation of the rent regulations. And, under the current law, tenants have only four years to issue a complaint. However, that provision places the burden of filing a complaint on the tenants, when most of the time, tenants do not even know, or may ever learn, of their landlords' misconduct – like if tenants were overcharged, for example. This reform extends the look-back period to six years and provides exceptions so that tenants can hold landlords more accountable.
9. Rent control relief (S299A/A167)
This bill proposes to bring rent control increases on par with Rent Guidelines Board adjustments. Currently, rent controlled units are subject to a 7.5% annual rent increase. Due to the fact that many of the tenants who reside in rent-controlled apartments are senior citizens, who have lived in the same apartment since at least 1971, many cannot afford these hikes.
If you have any questions as to how these laws may impact you, or your building, please do not hesitate to contact one of our attorneys at 212-619-5400.