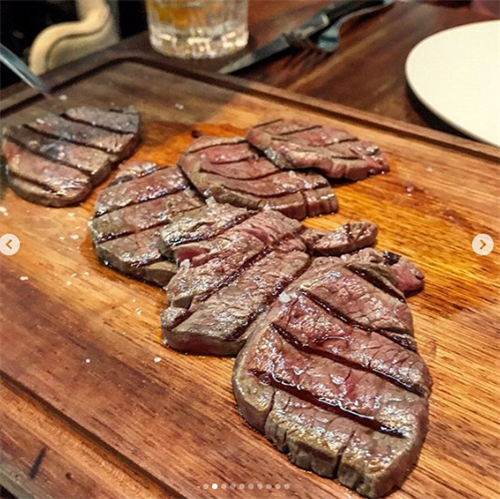 Salt Bae," whose real name is Nusret Gökçe, is a Turkish butcher, chef, and restaurateur, who is the owner of "Nusr-Et," a chain of steakhouses with locations in Abu Dhabi, Doha, Dubai, Istanbul, Miami and New York.

At his place in Brickell (Miami), we ordered the "Lokum" — which is described as "sliced Wagyu tenderloin" ($70).

While the beef had a supple texture and a rich, buttery, flavor, because we found the preparation salt-heavy and extremely over-priced — given the seven puny slices we received — this dish scored a lowly "C."

Interestingly, $70 was on the low-end of this restaurant's pricing spectrum. If you've got cash to burn, you can pick up a "Gold Steak" — 24 karat gold coated wagyu striploin ($590), or, the "Golden Tomahawk" — 24 karat gold coated highly marbled wagyu tomahawk ($1000). (See last photo.) Obscene!

Many of our IG friends have objected to the fact that (in late 2018) this chef hosted a murderous dictator at one of his restaurants (in Istanbul, Turkey).

Just so we're clear: Our reviews are in no way an endorsement of Salt Bae's actions or his "politics." We are merely rating the food offerings we sampled when we visited his Miami location.