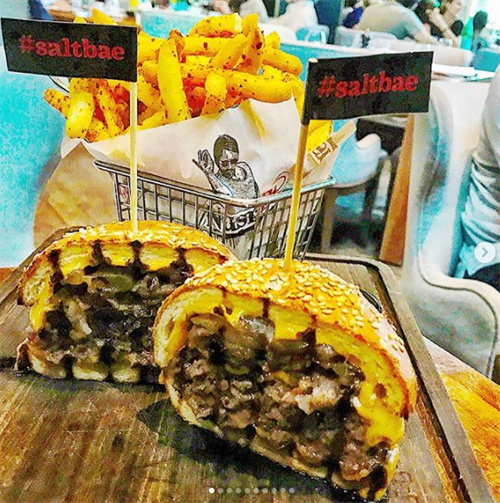 Nusret Gökçe, nicknamed "Salt Bae," is a Turkish butcher, chef, and restaurateur, who is the proprietor of "Nusr-Et," a chain of steakhouses with branches in Abu Dhabi, Doha, Dubai, Istanbul, Miami and New York.

While we were at his place in Brickell (Miami), a friend wanted to try the "Nusr-Et Burger" — which consists of "caramelized onion, cheddar cheese, housemade beef bacon, potato chips" ($30).

We found it visually interesting that the entire burger and bun had been halved and re-grilled so that the surface exhibited a nice char. (The cheddar and onions also added an interesting gooeyness to the mix.)

Despite its pretty hefty price tag, because the meat was rich, tender and juicy, (and quite tasty), this dish still ended up with a relatively respectable "B-."

And even though the menu referenced "potato chips," we forgave the substitution of French fries because the latter were perfectly seasoned and extremely addictive.

We note that many of our IG friends have expressed extreme displeasure with the fact that this chef hosted a murderous dictator at one of his restaurants (in Istanbul). ▫️
Just so we're clear: Our reviews are in no way an endorsement of Salt Bae's actions or his "politics." We are merely rating the food offerings we sampled when we visited his Miami location.