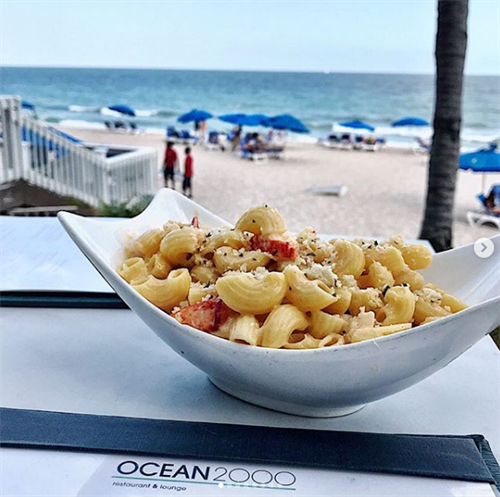 OCEAN2000 Restaurant & Lounge, which is housed in the Pelican Grand Resort (over in Fort Lauderdale), supposedly offers seafood dishes "with a Latin flair."

While we weren't too sure what was so "Latin" about their "Lobster Mac & Cheese" — which was described as consisting of a "creamy four-cheese blend, herb & butter breadcrumbs" ($24) — we still wanted to try it.

And even though the elbow pasta had a nice "al dente" texture, we found the entirety dry and a gritty. (It direly needed more creamy, melted cheese (and, of course, more lobster) added to the mix.)

Fortunately, the restaurant's patio area was quite comfortable, and offered beautiful beach and Atlantic ocean views. But as far as this particular offering was concerned, a "C-" was an extremely generous score, in my humble opinion.

(If I were you ... go for some cocktails, enjoy the spectacular seascape, and pass on the food.