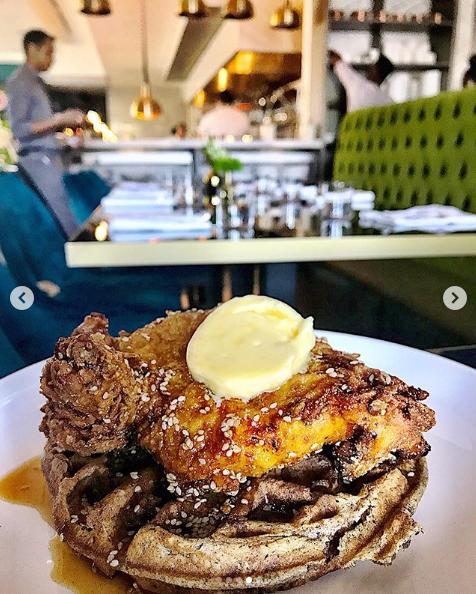 We decided to have brunch at "Three," Chef Norman Van Aiken's Wynwood (Miami) restaurant.

While the space is a bit stuffy and formal, with royal-blue velvet chairs and gold-trimmed black tables, the staff was extremely friendly and attentive. (No airs or attitude, here. You will feel welcomed.)

Although we were initially taken aback by the "look" of the "Fried Chicken & Buckwheat Waffles" — aji dulce syrup, smoked butter ($21) — we thought the meat had been cooked to perfection. It was moist and delicious. (A rarity these days.)

Because the "waffle" was a bit dry, and the asking price a bit high (given the small portion), the dish lost some points, but still ended up with a pretty respectable "B."

Aiken — who is an American chef and author — offers "New World" cuisine which "celebrates the ethnic diversity and food history of Florida in a globally-informed way." (He was affectionately dubbed the "Walt Whitman of American cuisine," by fellow restaurateur and chef, Charlie Trotter.)

Sing the Body Electric, anyone?