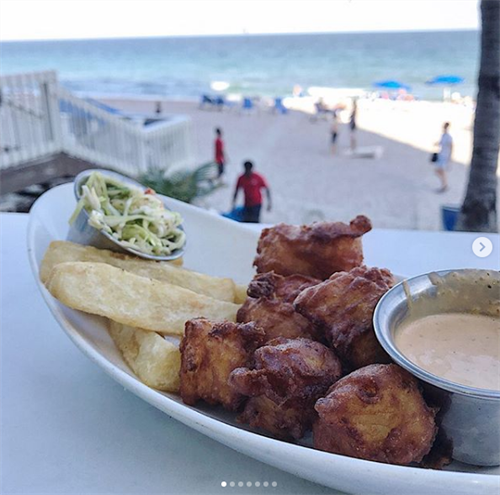 OCEAN2000 Restaurant & Lounge, which is housed in the Pelican Grand Resort (over in Fort Lauderdale), offers seafood dishes "with a Latin flair."

On the day we visited, we ordered the "'Florida-Style' Fish & Chips" — which the menu described as "day boat fish bites, coconut & ale batter, jicama slaw, yucca fries, malt vinegar remoulade" ($17) — and were immediately taken aback by the frugality of the serving.

Our plate came with only four (4) cold yucca fries, and about eight (8) over-salted and over-cooked "bites" — which were "doughy" and had no readily identifiable "fish" taste.

While I thought it was a total fail, my table generously rated this fiasco a "C-." Luckily, all was not lost, as we were able to sit and savor the beautiful weather, the spectacular beach and Atlantic ocean views, and ... of course ... a nice bottle of champagne.

On a sunny day, I'd suggest you skip the food, and just go for drinks on the patio ....