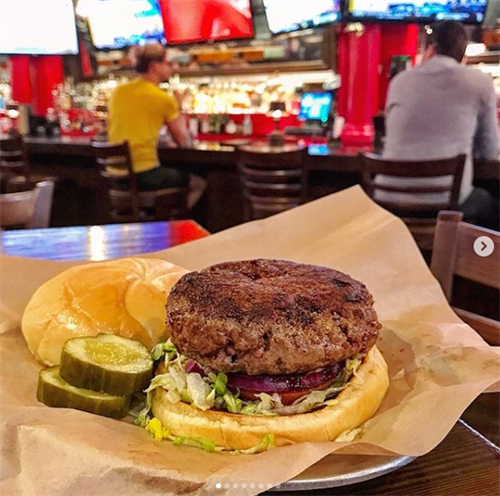 We kept hearing, from a number of our IG friends, that "Grease Burger, Beer and Whiskey Bar," over on Clematis Street in West Palm Beach, makes a great meat patty ... so we decided to head north to give it a try.

We asked for their "Classic Hamburger" — 10 oz. grain fed beef, ground fresh daily ($9.95; upgrade to 12 oz +$2 pictured here) — medium rare.

And when the food arrived at our table, the burger looked overcooked and the open-faced presentation wasn't particularly appealing or attractive. But, luckily, once we dug-in, the interior was a nice reddish-pink.

Even though it exuded a pleasant smoky flavor and, at $11.95 (for 12 oz), was well priced for the area, ultimately, this hamburger only scored a "B."

While it certainly wasn't bad, points were lost because the meat could have used a bit more moisture, the bun was rather ho-hum, and, the overall appearance was lackluster and uninspired. (Some also thought a few fries should have been thrown in for good measure.)

Given that they offer a selection of "120 craft beers available by the bottle and on tap," if you happen to be in West Palm Beach and decide to try this place, I would skip all the other stuff on the menu, and just go for a burger and a brew.